One of the newest editions of the widely popular Teenage Mutant Ninja Turtles TV series began in 2012 on Nickelodeon and ended in 2018. It is a slightly different take on the established formula. All of the major characters and plots are in it, as well as some new and welcome additions.
This series was succeeded by Rising of the Teenage Mutant Ninja Turtles in 2018, and it is still going. This version also changed the vibe of the show and the overall look of the characters.
What is common for both of these shows is a great line of toys that have always accompanied this famous cartoon series. In this article, we will take a look at some of the most prominent pieces of these two exclusive Nickelodeon TMNT toys.
2012
Wave 1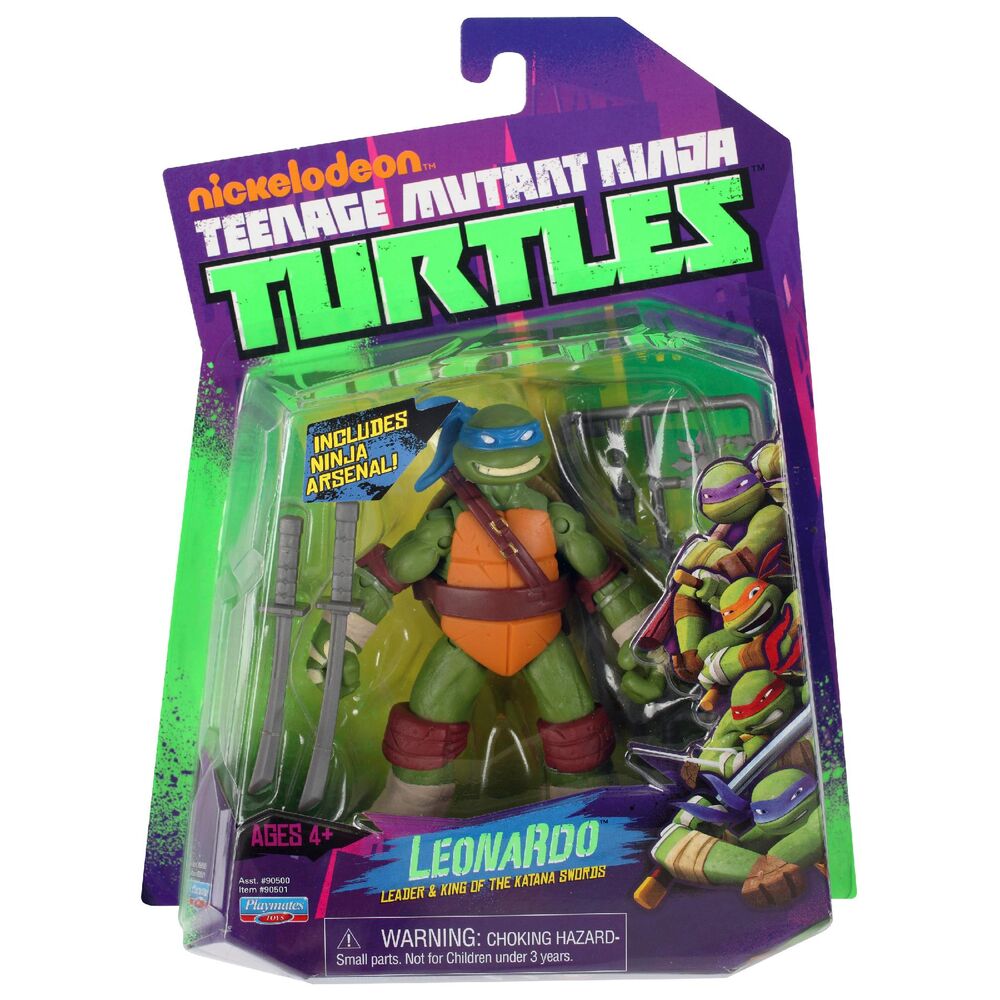 The first wave that came with the new show included heroes of the show, Leonardo, Donatello, Raphael, and Michelangelo, as well as their master Splinter and April O'Neil. Their main enemies Shredder, Kraang and their Foot Soldiers also got these toys. All of them came with their appropriate weapons and gear.
Wave 2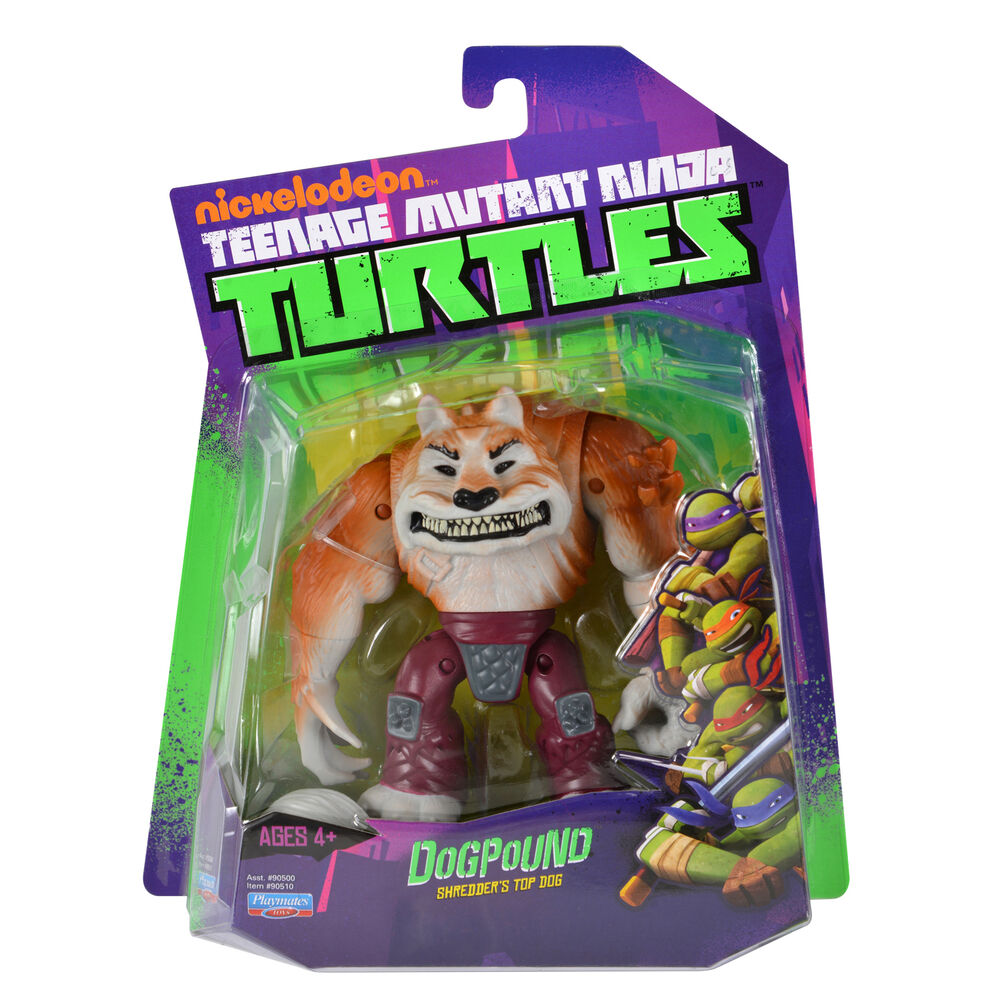 The second wave of this edition included villains Dogpound and Fishface, and a hero Metalhead.
Vehicle Exclusives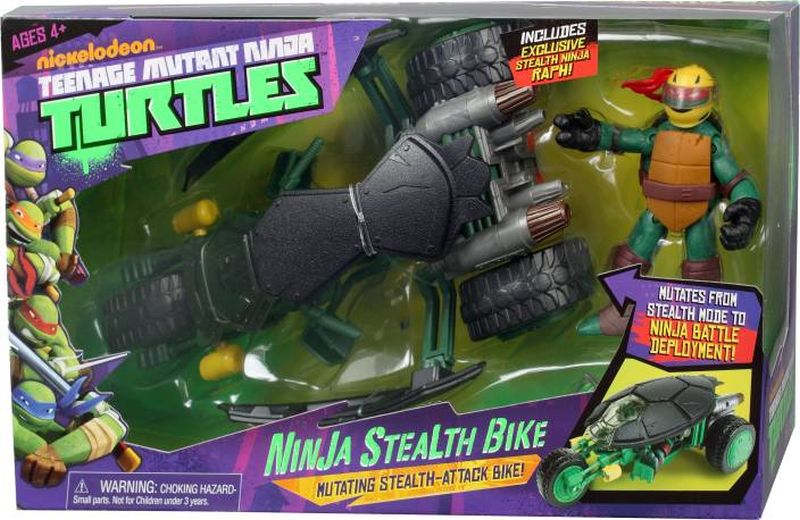 The first exclusives included the Ninja Stealth Raph and the Dragon Fang Foot Soldier. Raph came with a scooter, and the Foot Soldier came riding a motorcycle.
Deluxe Figures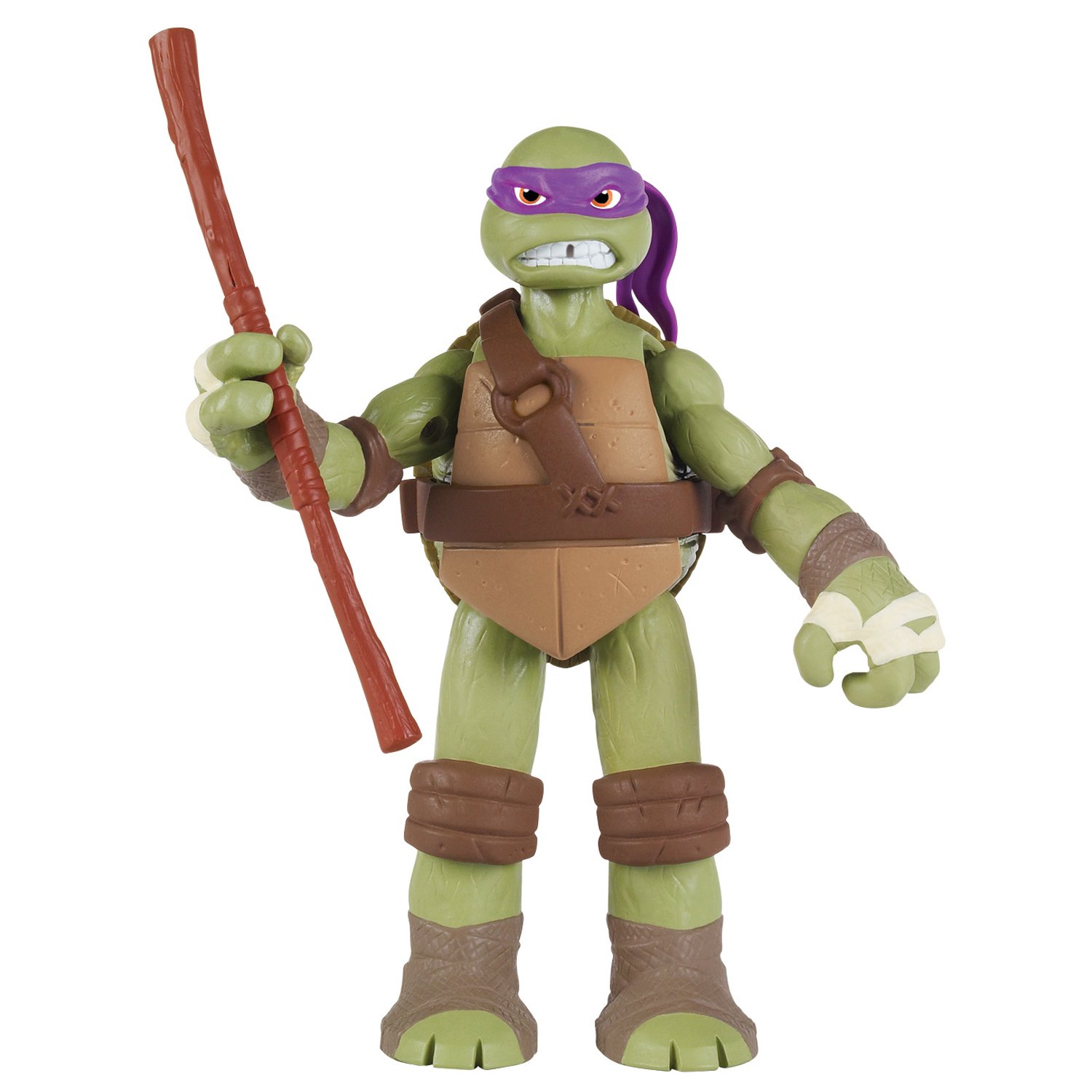 Power Sound FX figures of the turtles and Shredder came next, which could talk after you utilize the function.
11" Figures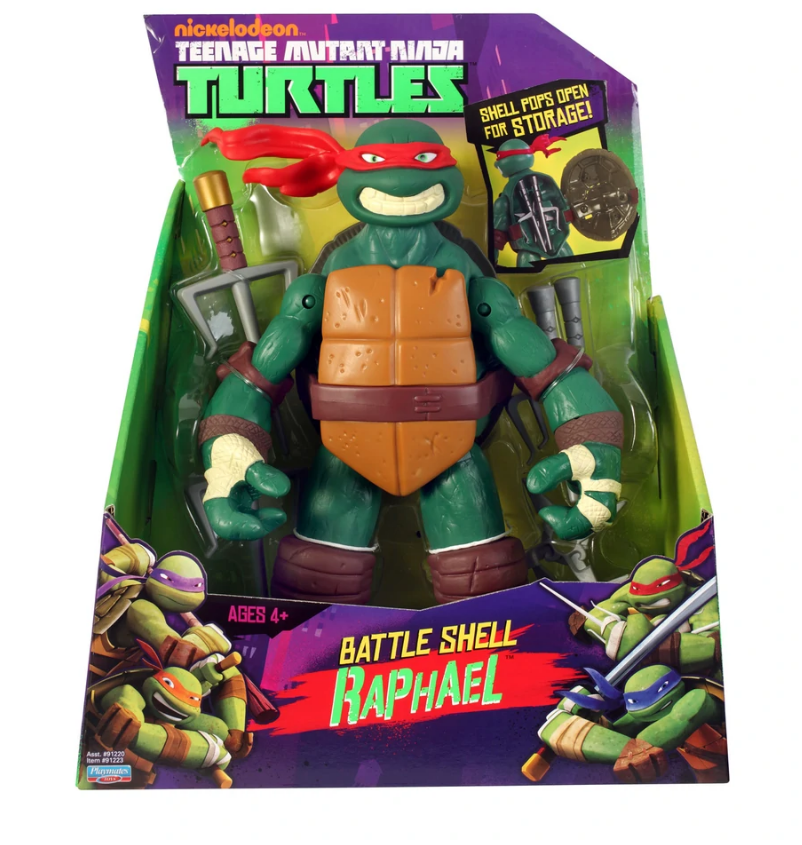 The next edition of toys was much bigger in size, called Battle Shell. All four turtles came in this version.
2013
Wave 3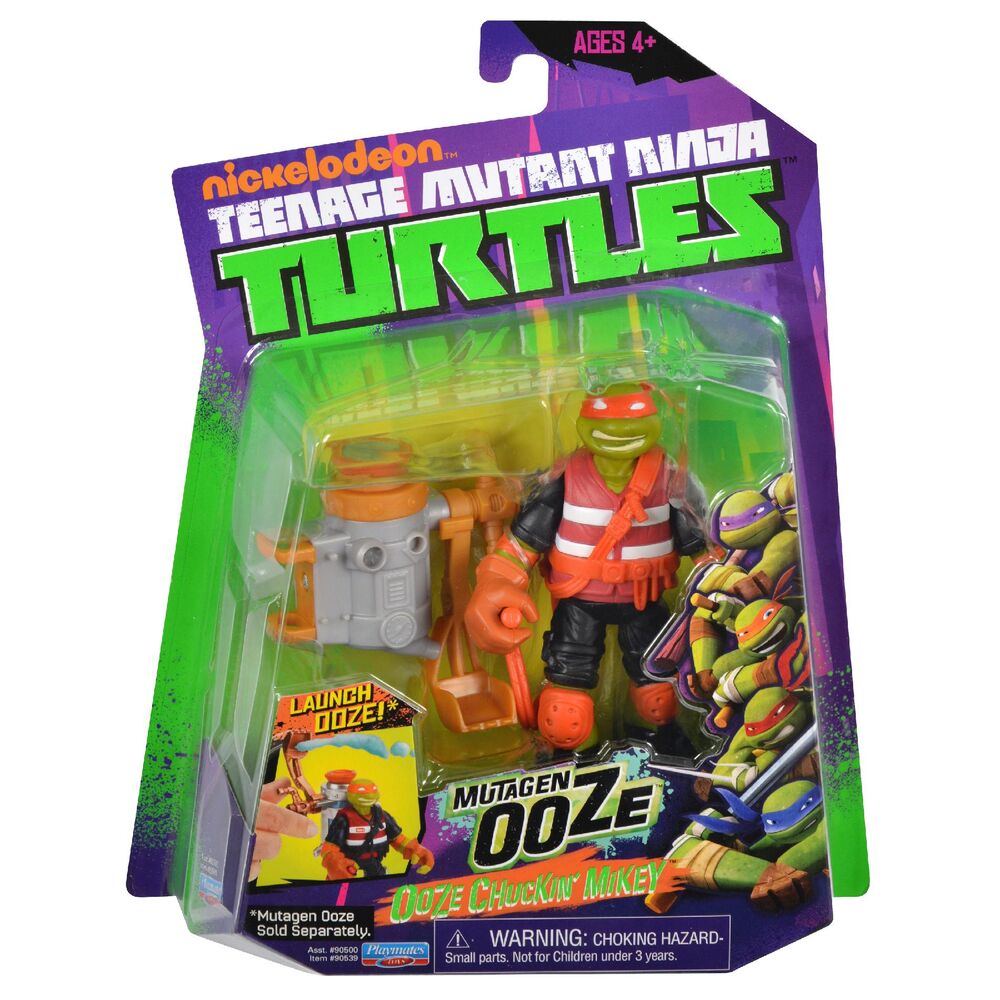 During the second season of the show, the turtles got a fresh selection of toys. These were called Ooze Launchin' Leo, Ooze Scoopin' Donnie, Ooze Tossin' Raph, and Ooze Chickin' Mikey. Their ally Leatherhead also appeared, who is a crocodile, as did enemies Baxter Stockman and Snakeweed.
Wave 4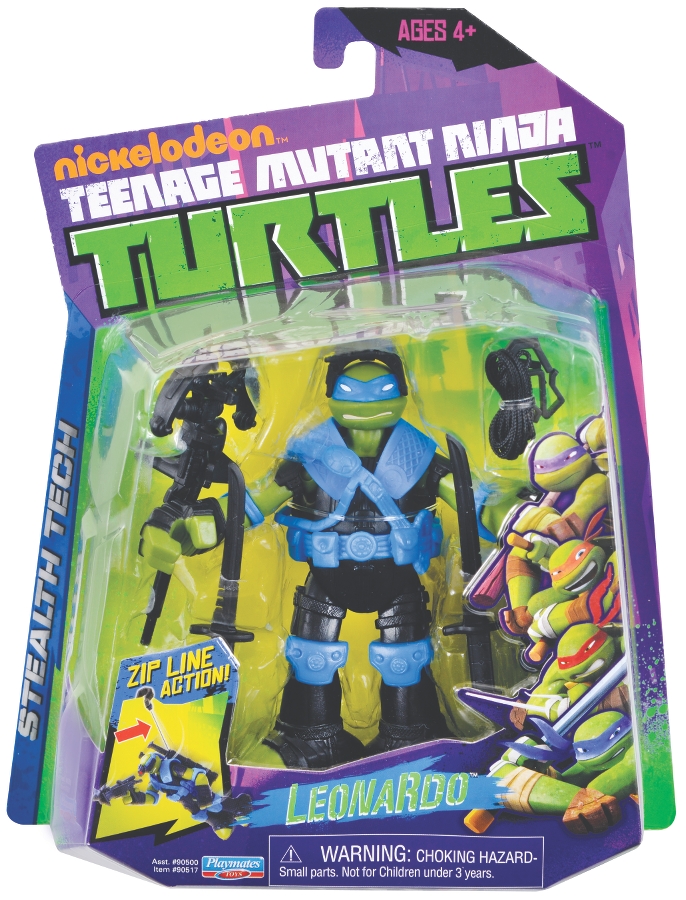 Next iteration was the Stealth Tech turtles. These toys wore special black uniforms.
Wave 5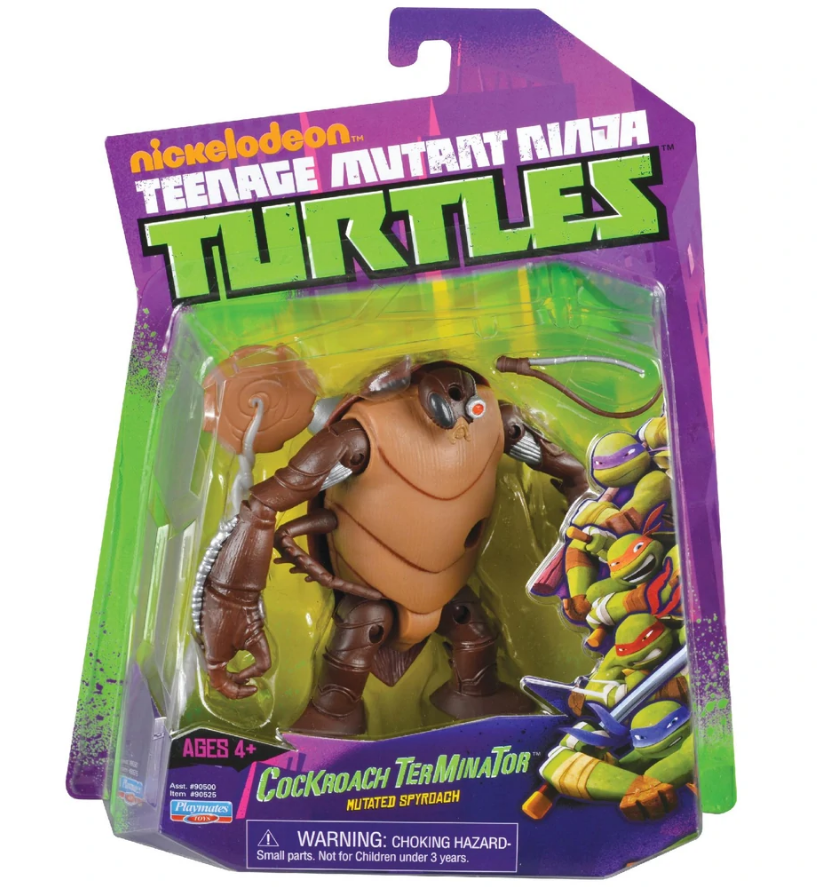 Right after the new editions of the heroes came the villains. The Cockroach Terminator, the Rat King, and M.O.U.S.E.R.S. robot mice toys appeared.
Wave 6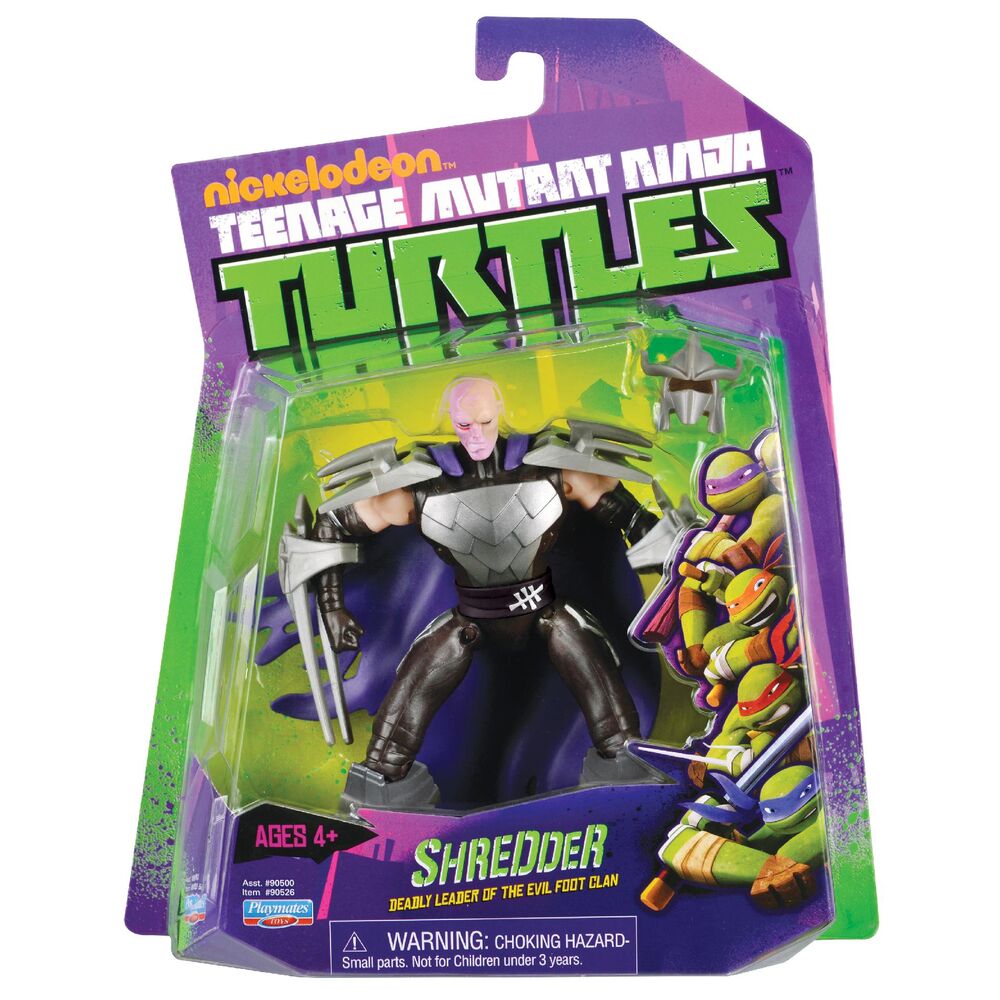 This new set brought another villain, Spider Bytez, and the second version of Shredder. What also appeared are two sets of turtles. One is Ninjas in Training Leonardo and Donatello, and the other is Ninjas in Training Raphael and Michelangelo. Our heroes are still young with these toys and practicing to become what they are in the show.
Wave 7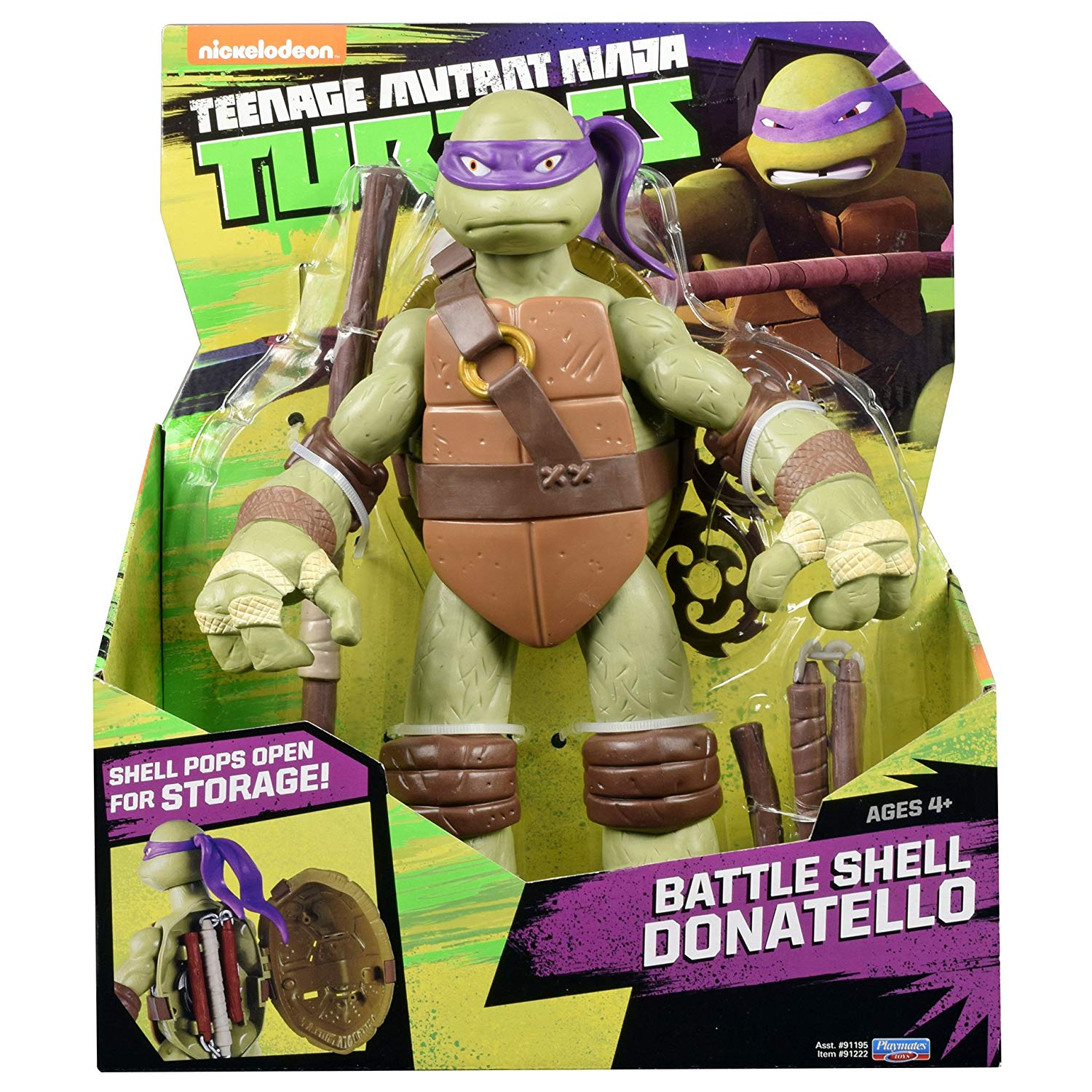 Battle Shell turtles came next, which are smaller versions of the 11" figures from 2012.
Vehicle Exclusive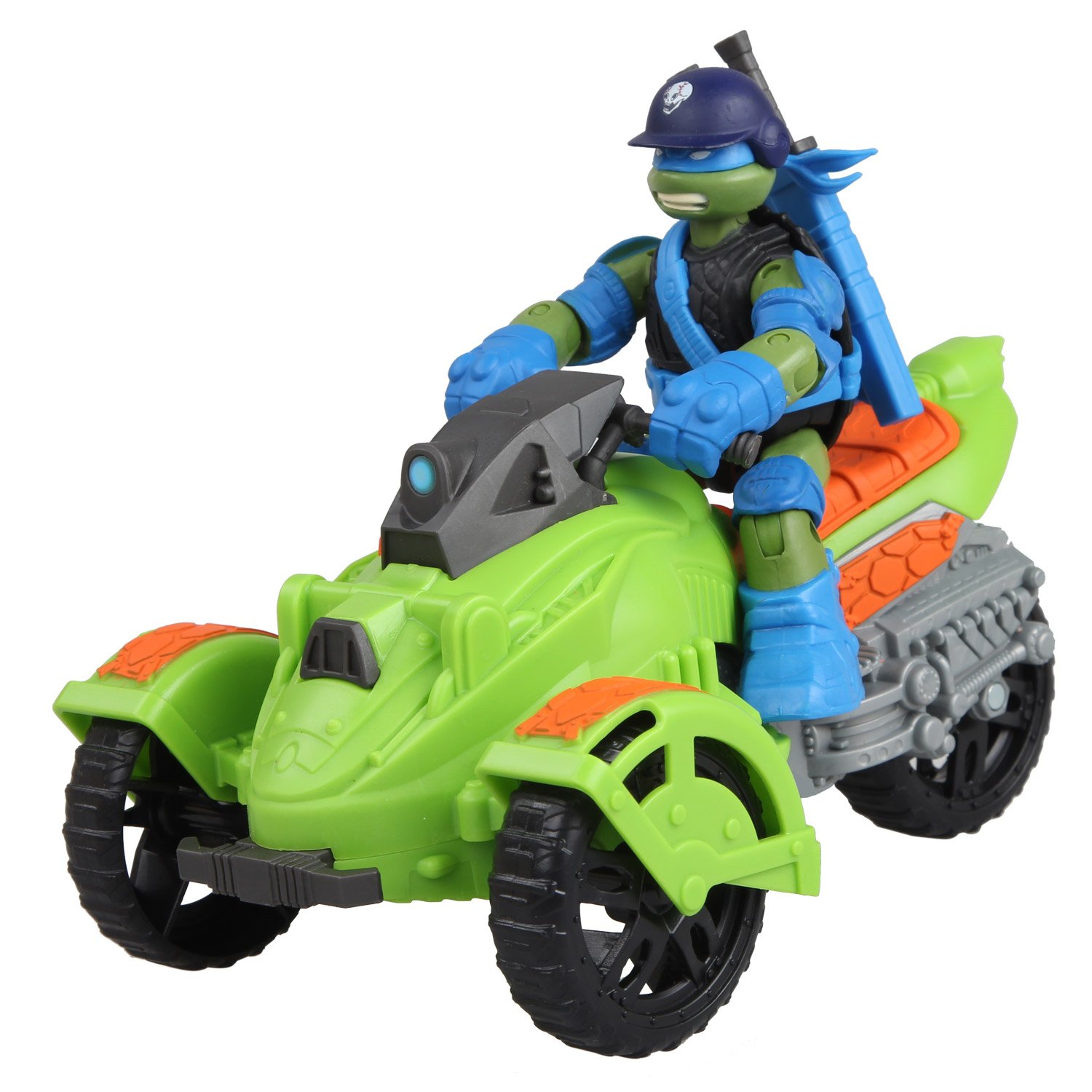 This time around, Leonardo received an All-Terrain toy, riding a green three-wheeled bike.
Deluxe Figures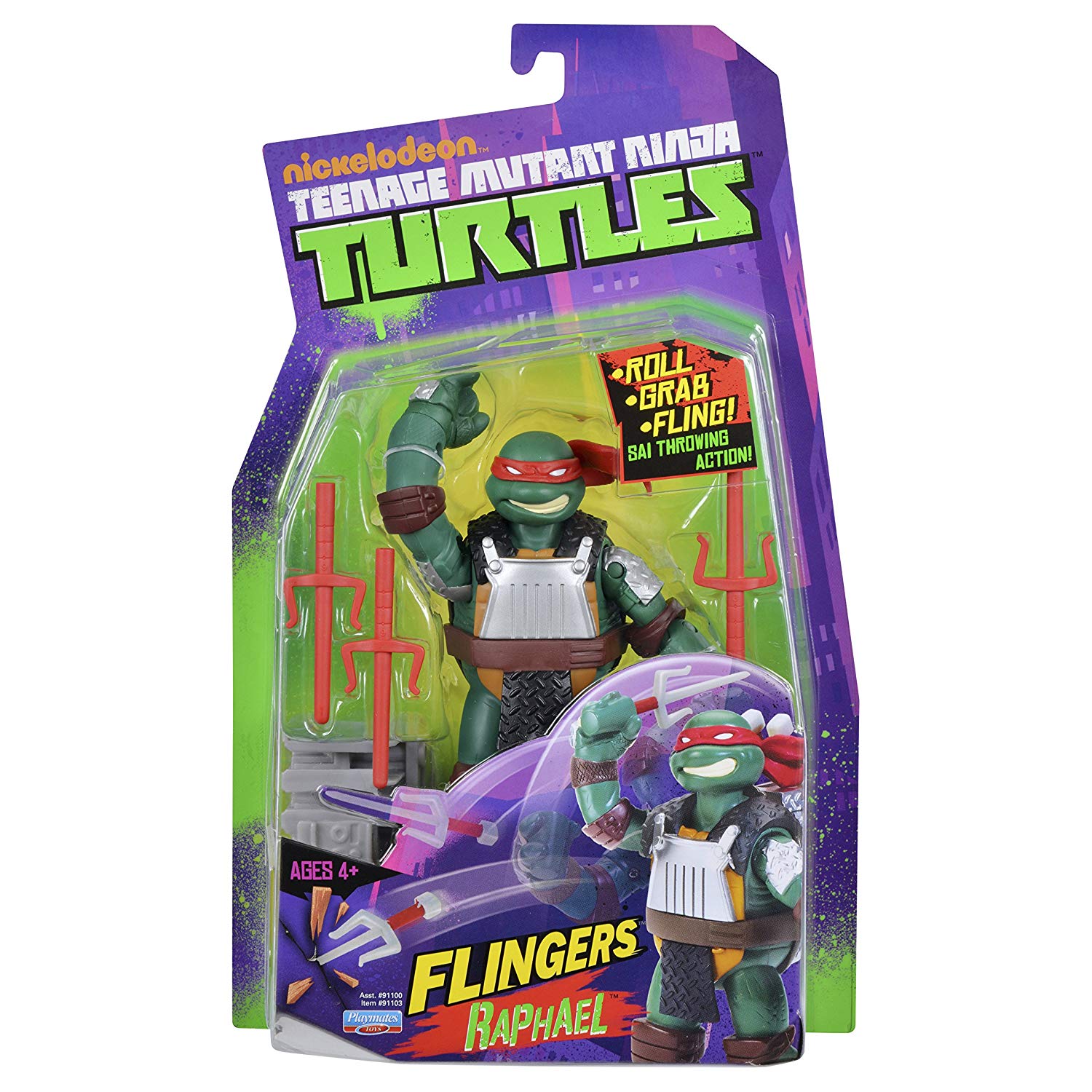 This time, the deluxe toys were Flingers turtles, which could move their arms in an attacking maneuver.
Soft Body Figures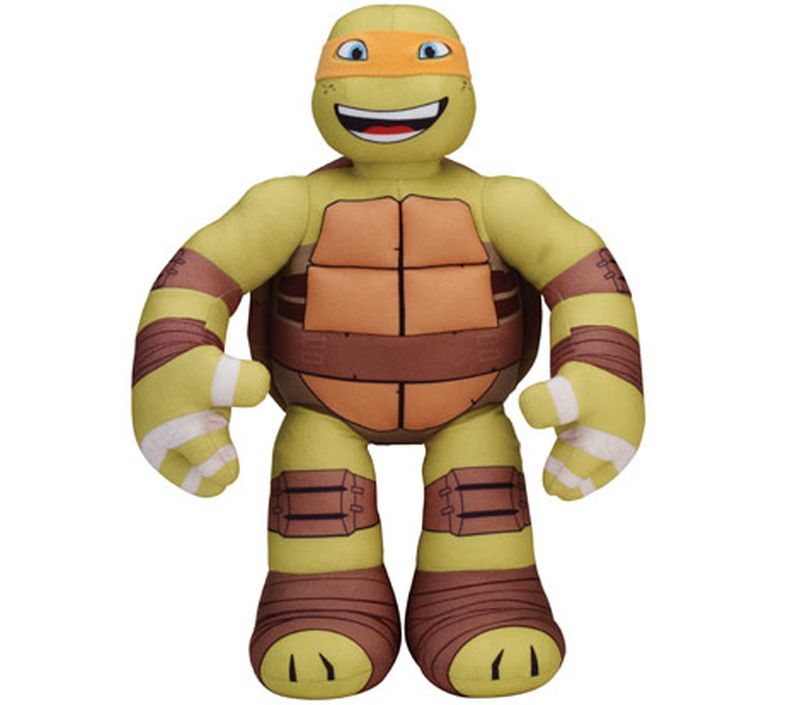 The last set of toys in 2013 were large plush toys of the turtles.
2014
Wave 8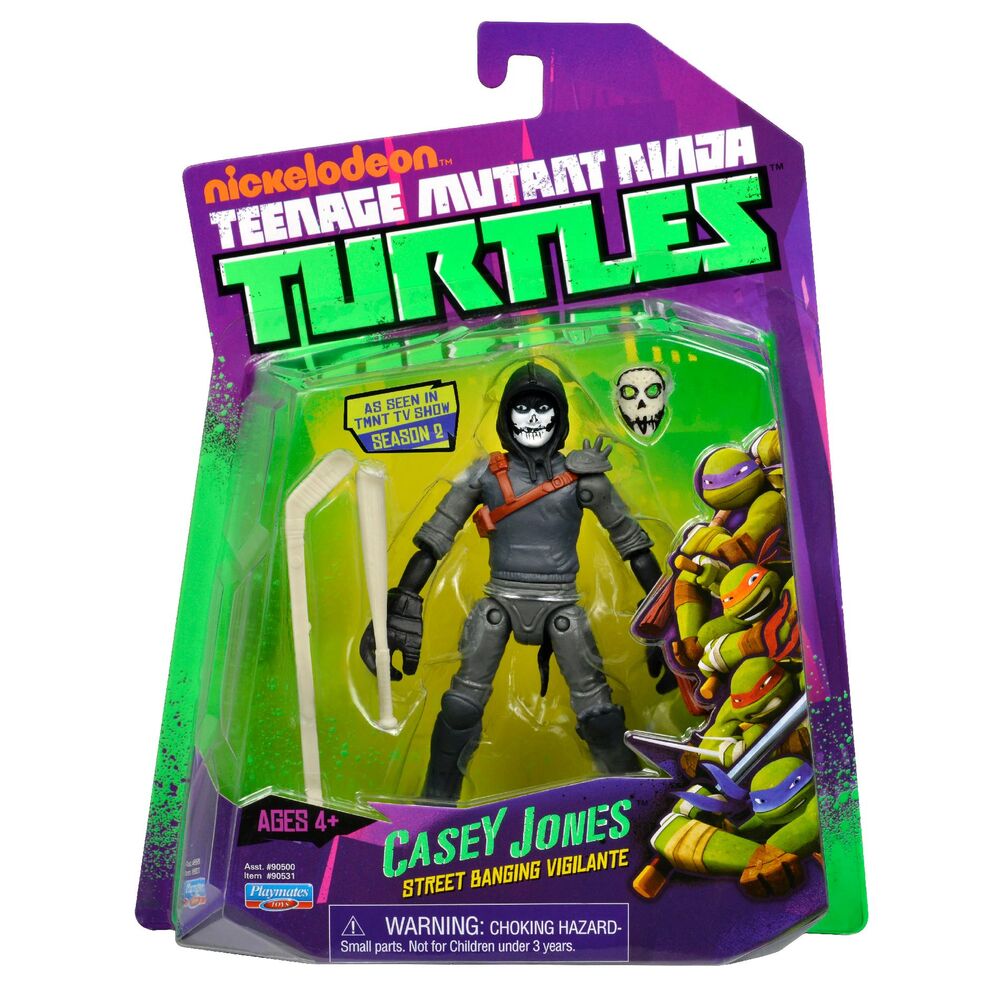 This new set in 2014 brought us supporting characters, mainly allies Casey Jones and Kirby Bat, and villains Mutagen Man and Squirrelanoid.
Wave 9
Here we also received supporting characters. Splinter got an update in the form of Dojo Splinter. The second one is Newtralizer, a companion of the good guys, while the rest were villains. One was Rahzar, who is Dogpound mutated the second time, and the second one is Slash, an evil turtle.
Wave 10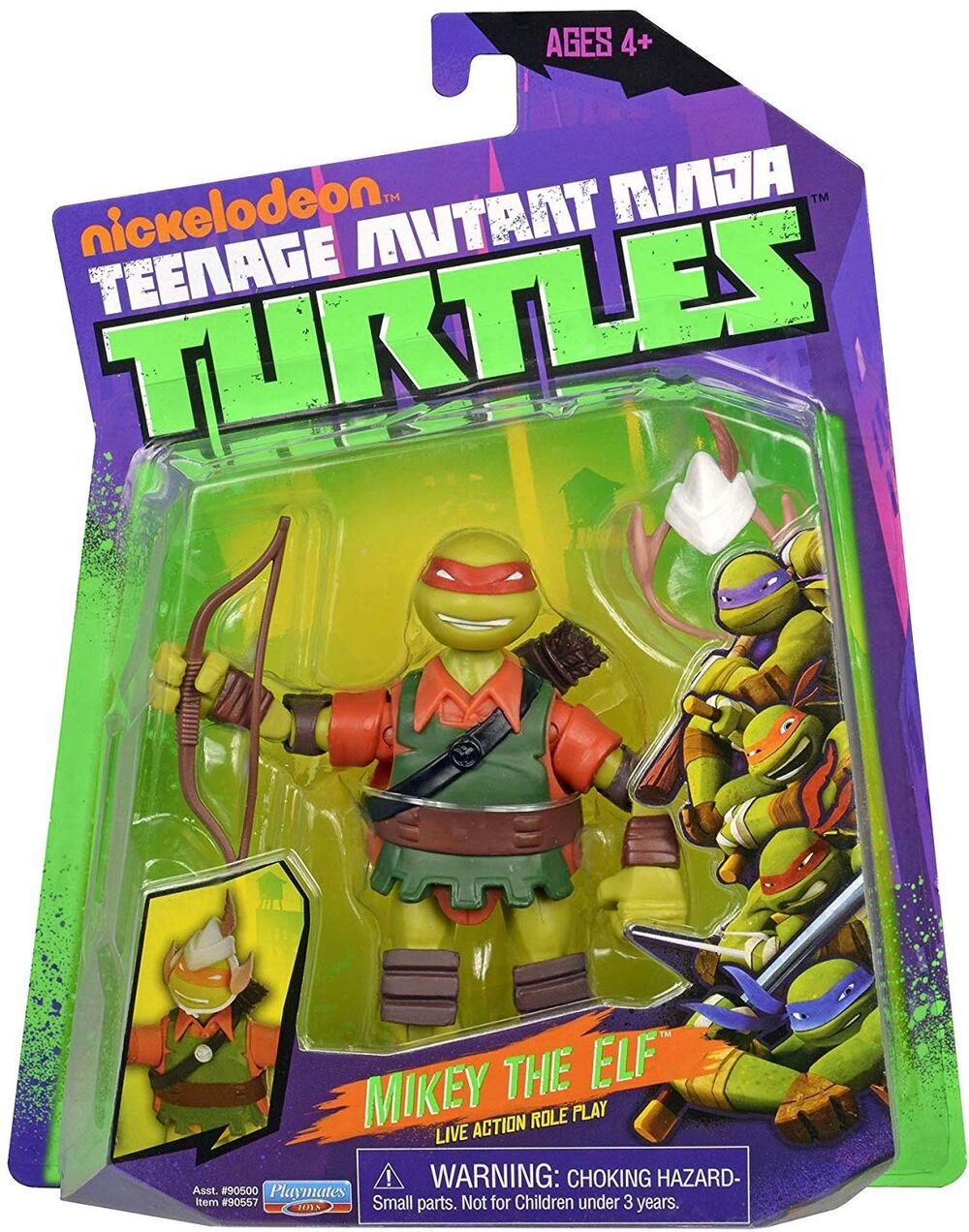 This versions of turtles wear different armors, and they are Leo the Knight, Donnie the Wizard, Raph the Barbarian, and Mikey the Elf. They are medieval inspired.
Wave 11
With this one, the fans got something quite special. These are the Original Comic Book turtles when they all wore red bandanas and had a somewhat different design. Also, villains Tiger Claw and Robotic Foot Soldier came, two additions to the main line of figures.
Wal-Mart and Target Exclusives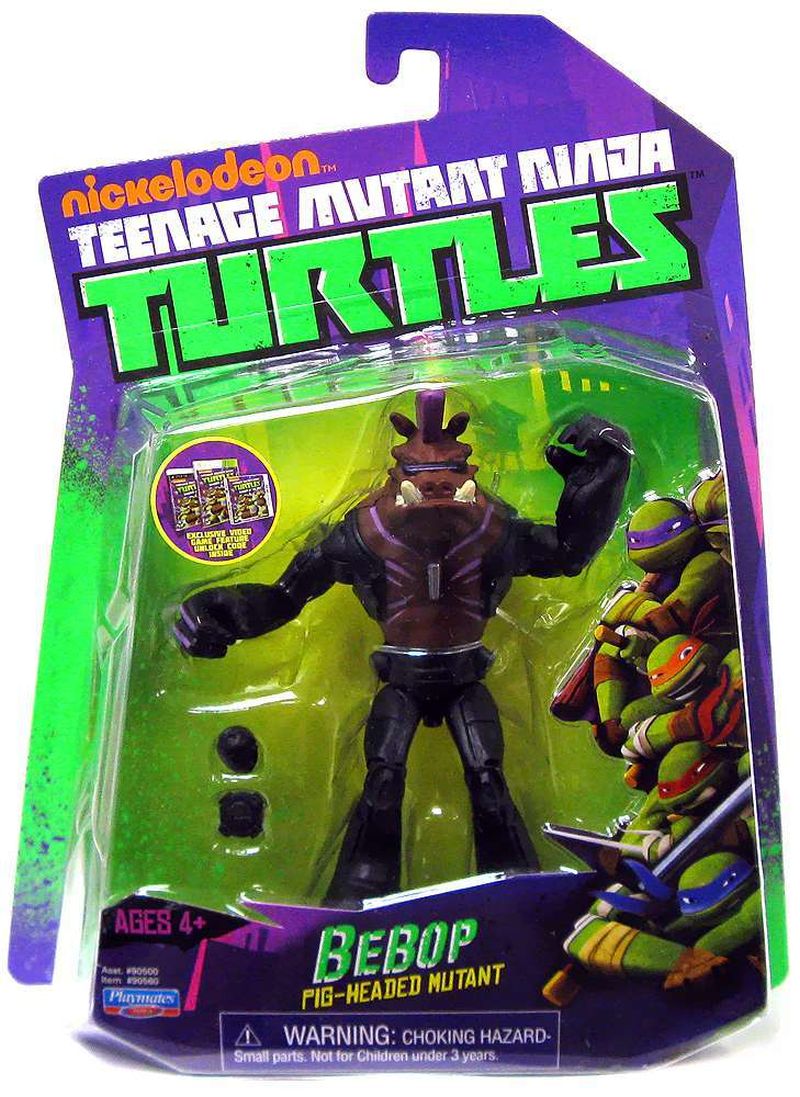 You could only get the iconic villains Bebop and Rocksteady at Wal-Mart, while the 3 Pack Exclusive Leonardo was only available at Target stores.
Vehicle Exclusive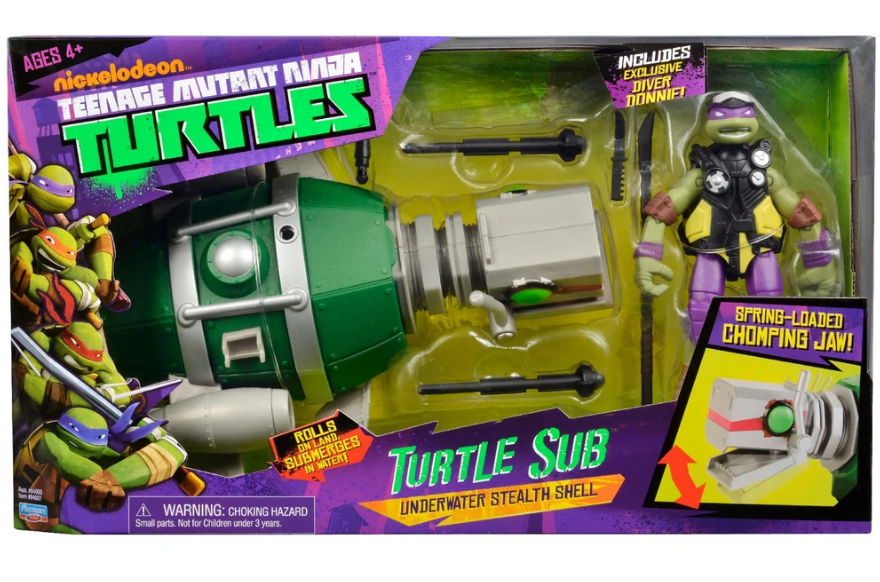 The remaining two turtles that did not have a vehicle received one here. These were Diver Don and Hot Rod Mikey. Donatello came with a submarine, and Michelangelo drove a hot rod car.
Deluxe Figures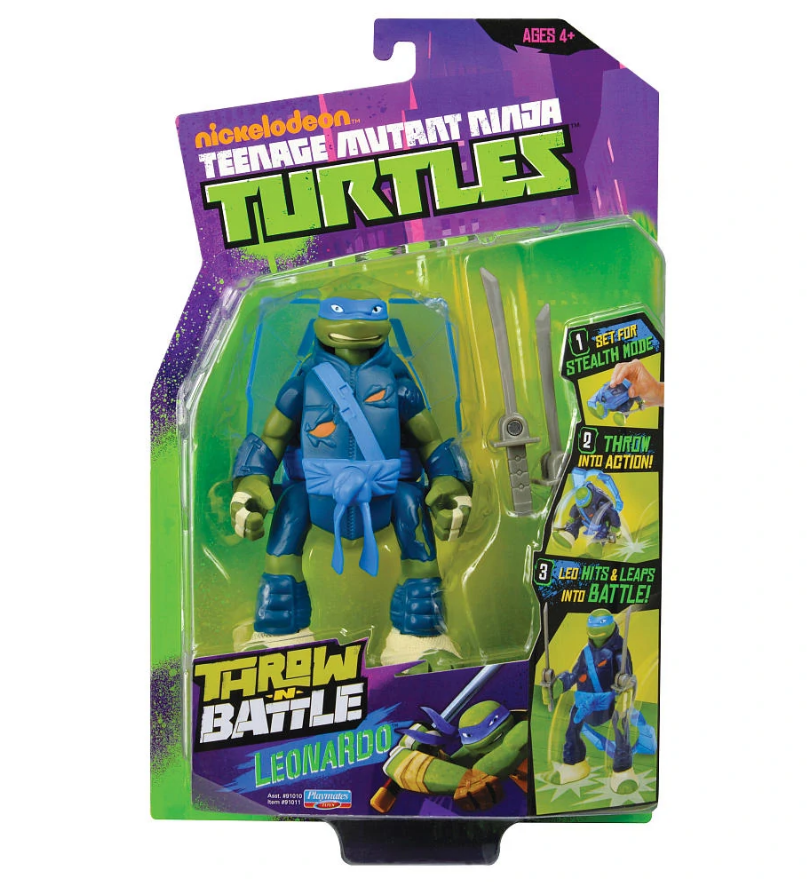 In 2014, fans were treated to many deluxe toys. Throw N' Battle and Interactive Talking turtle sets came, as did Front Flippin' Raph, Ninja Strikin' Mikey, Stretch N' Shout Donatello, and Super Sideswipin' Leo.
Mutations Figures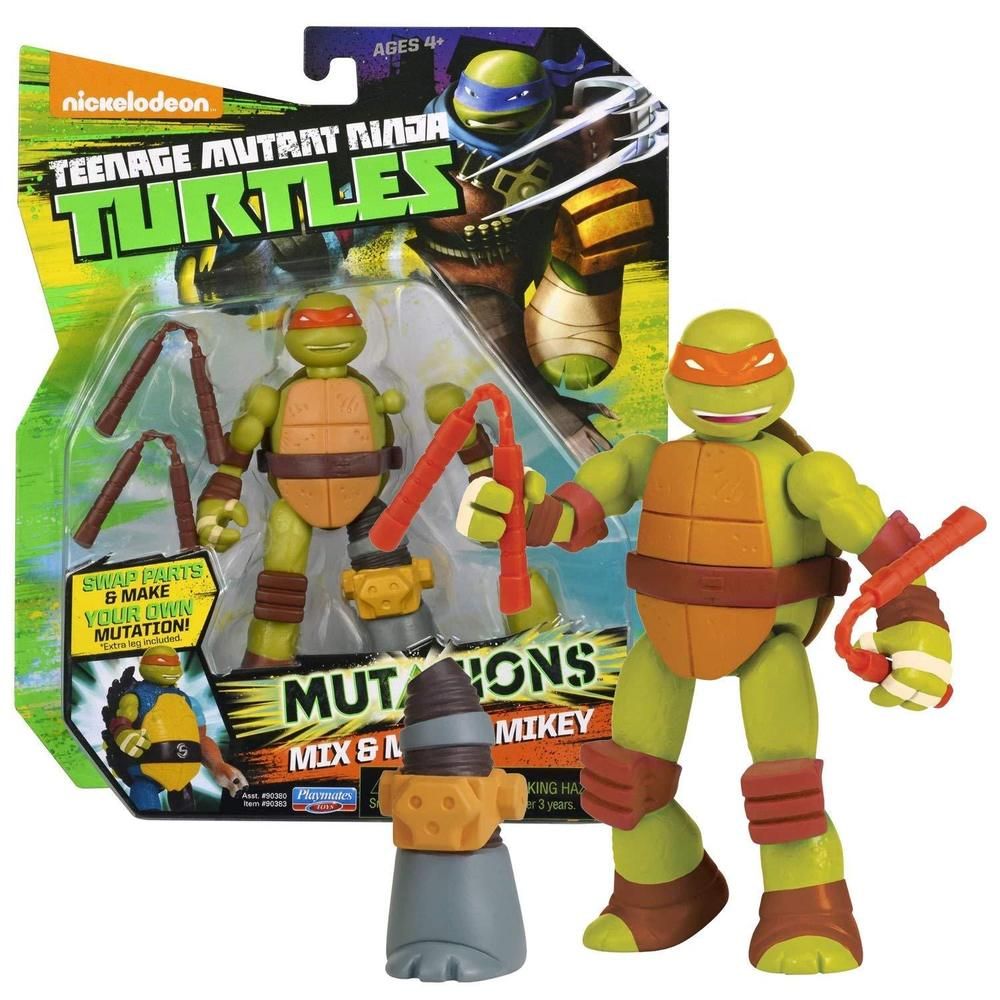 Mutation turtle set allowed you to transform the ninja turtles into real turtles. Also, Mutations Mix & Match toys of Leo, Donnie, Mikey, Raph, Splinter, Shredder, Tiger Claw, Slash, and Metalhead allowed you to mix their body parts and create new mutants.
Soft Body Figures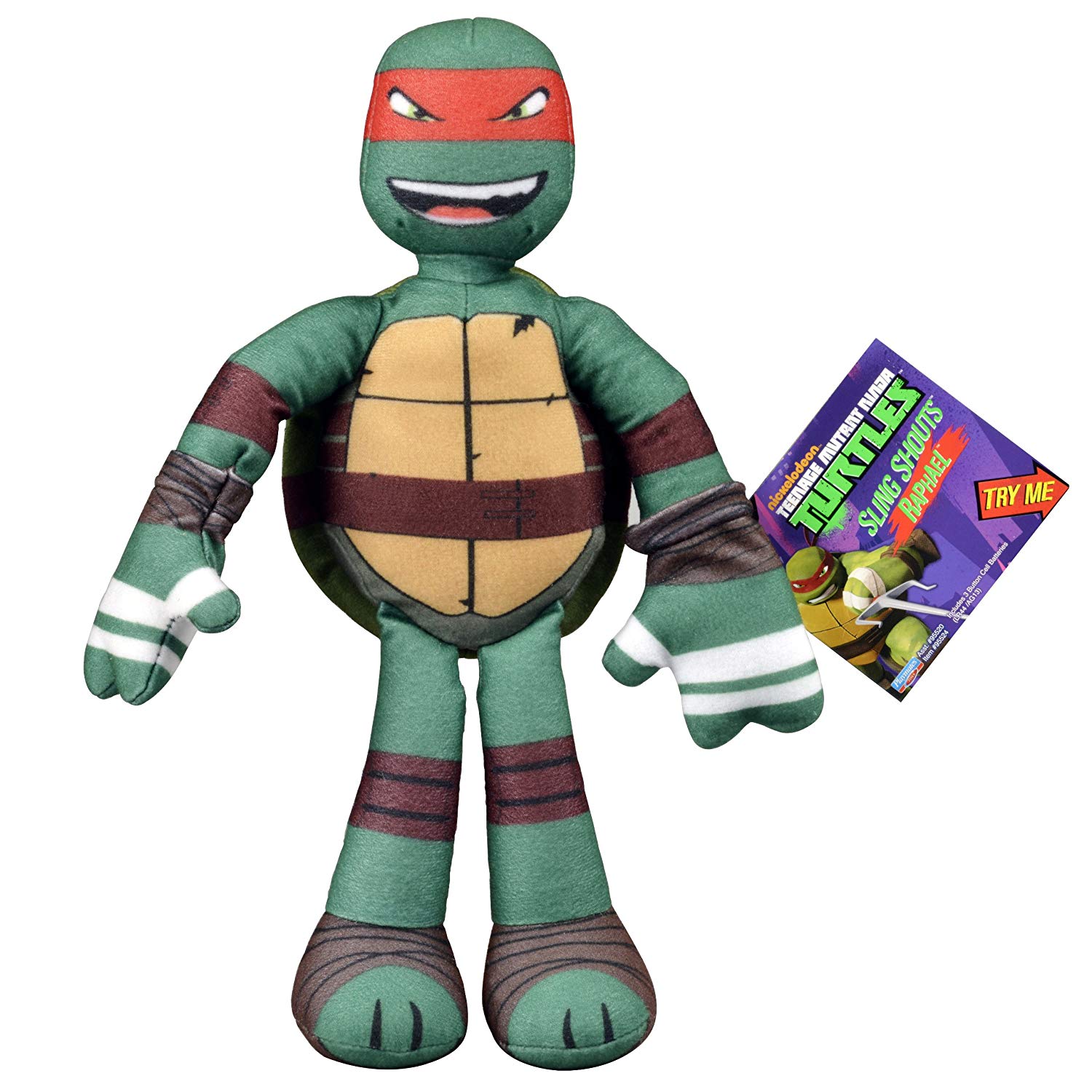 A new set of these plush toys had a sling, and the set was called Sling Shout.
2015
Wave 12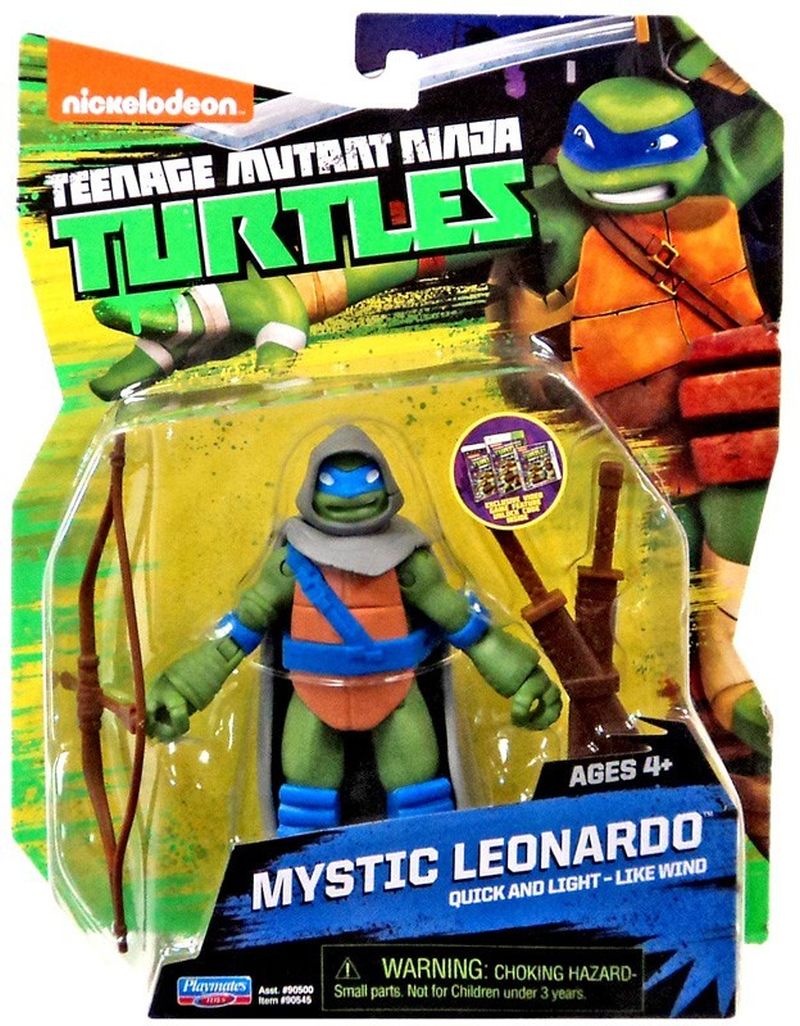 The new year brought a new set, this time called Mystic. All four turtles came out, and Bebop and Rocksteady figures were released again, but this time everywhere.
Wave 13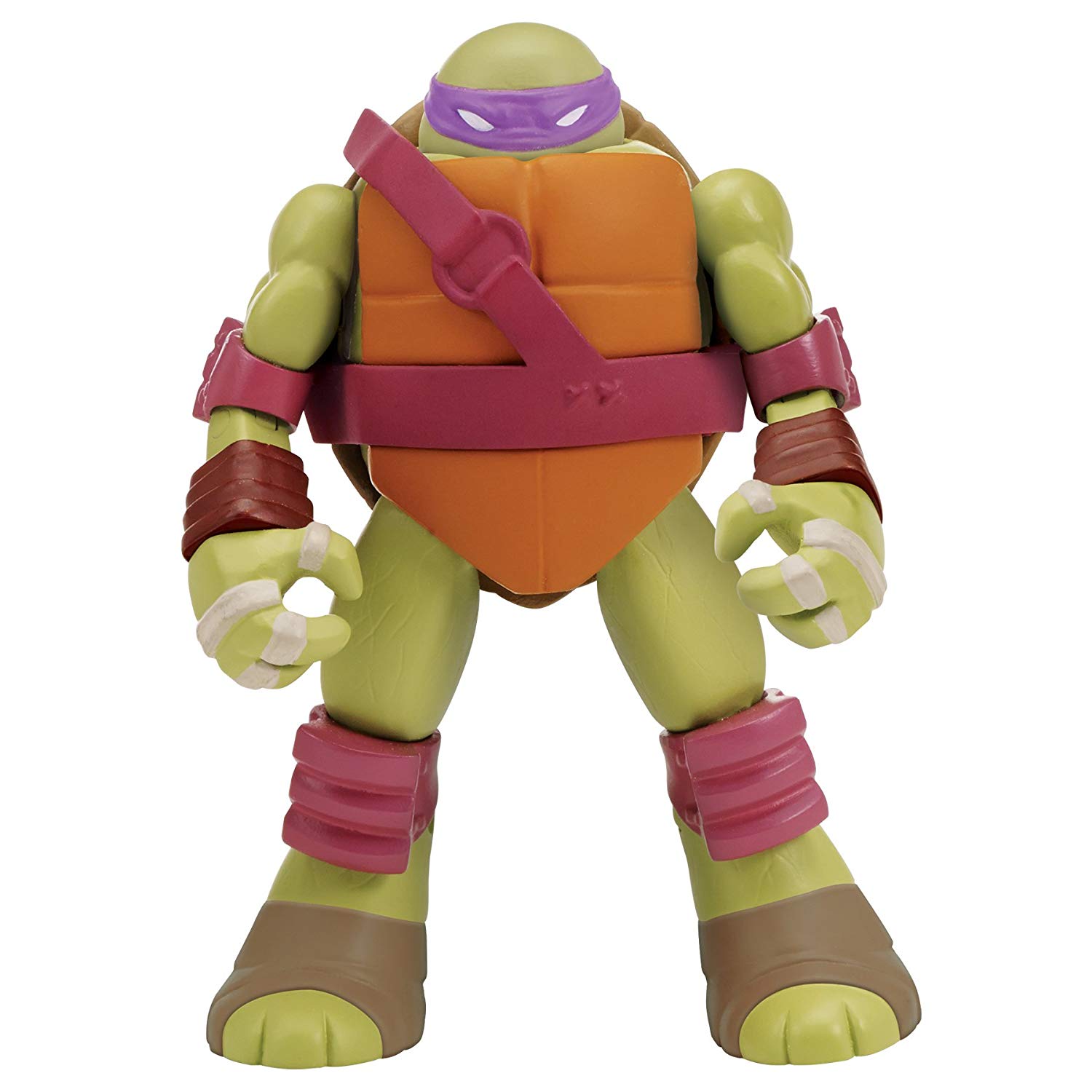 After these came the Head Droppin' turtles that could lower their heads into their bodies. Also, they released the villains Dark Beaver and Stockman-Fly, as well as an ally Karai Serpent, the daughter of Splinter. Special Michelangelo toy, called Mikey Turflytle, also appeared.
Wave 14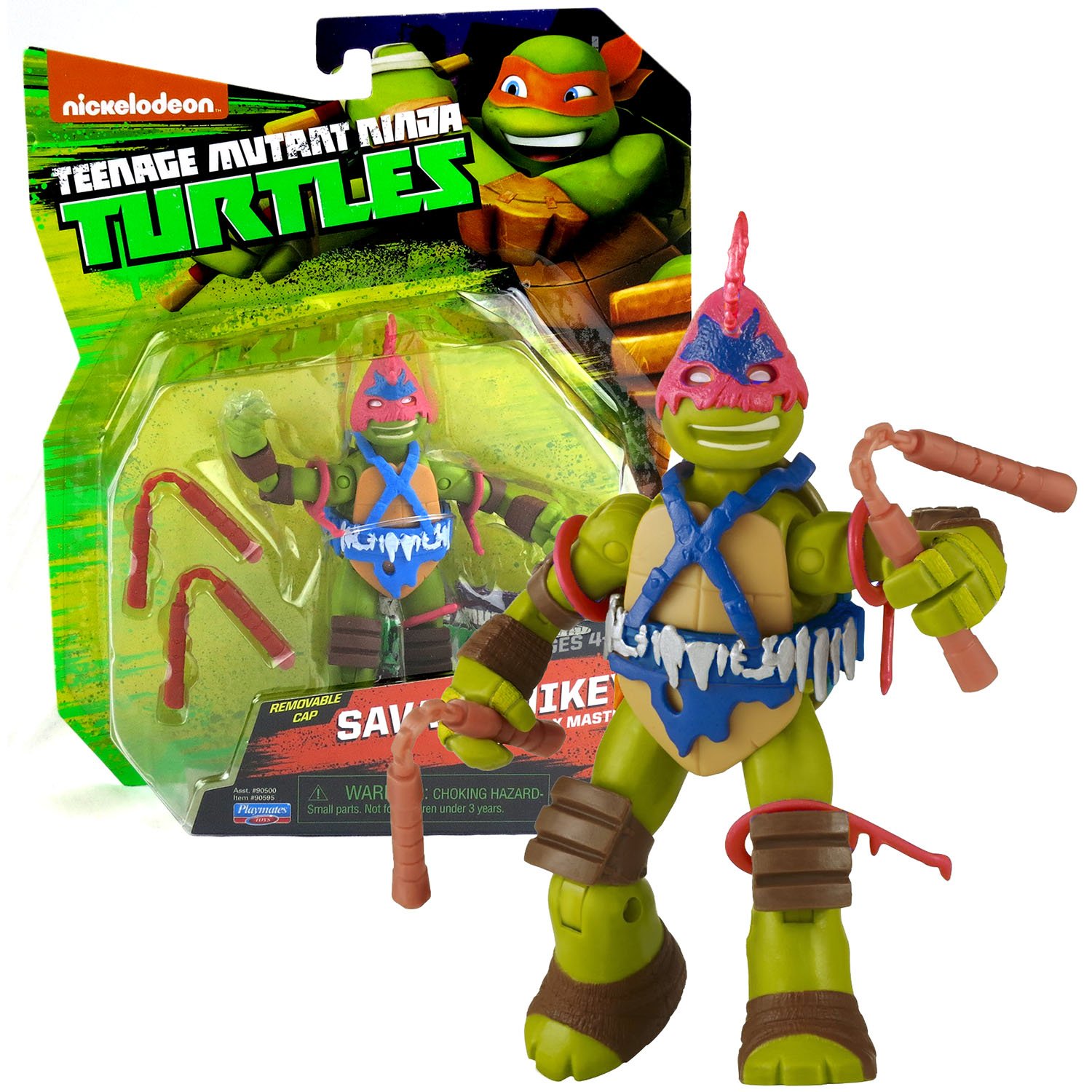 Here we got allies Atilla the Frog, Napoleon Bonafrog, and Monkey Brains. New editions of all four turtles came too, as did a special Mikey toy, Savage Mikey.
Wave 15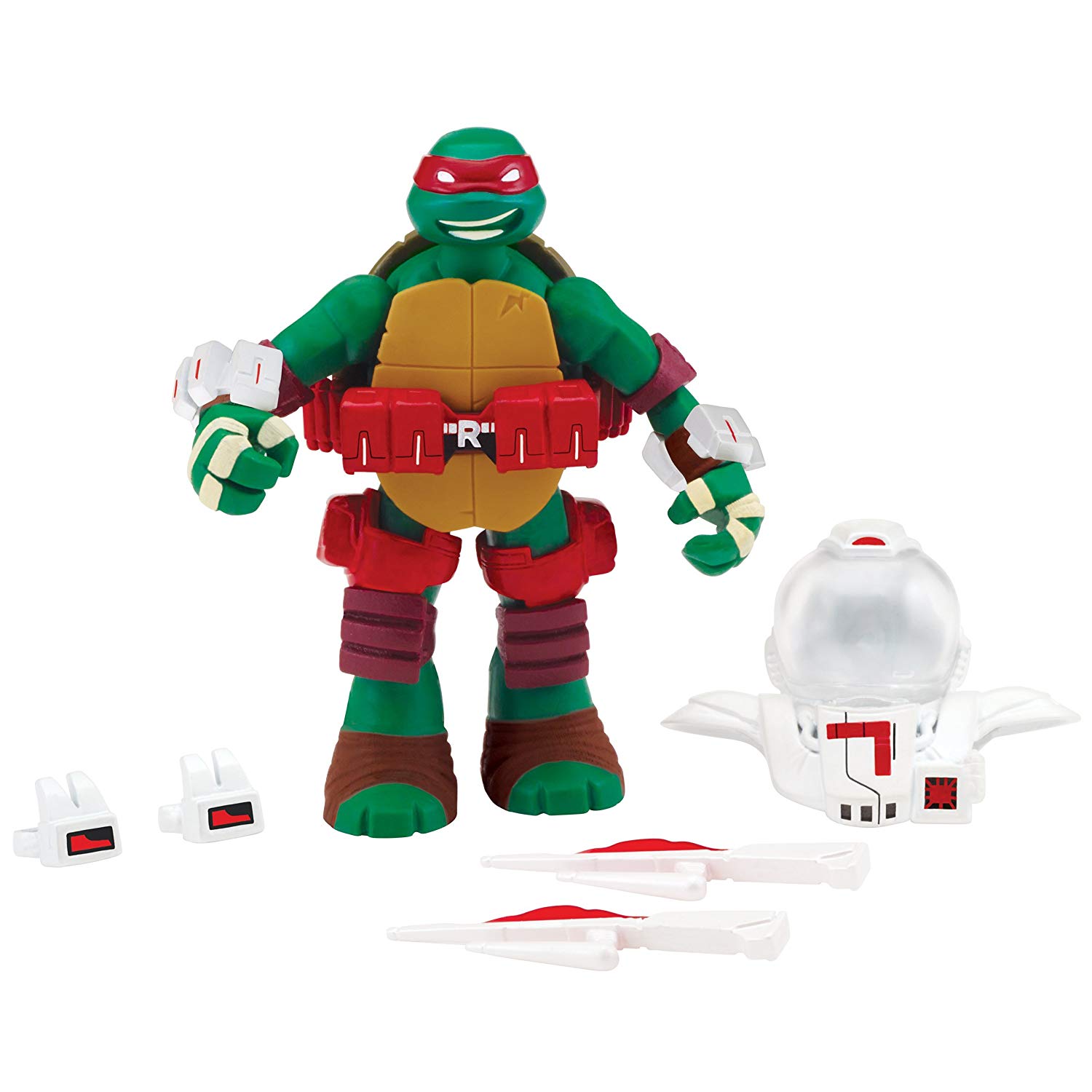 Metal Mutants Donatello, Leonardo, Michelangelo, and Raphael were made available this time, equipped for a space mission. Accompanying them came to their allies Fugitoid and Mondo Gecko, and enemies Lord Dregg, Mozar the Triceraton, and Mutant Shredders.
Vehicle Exclusive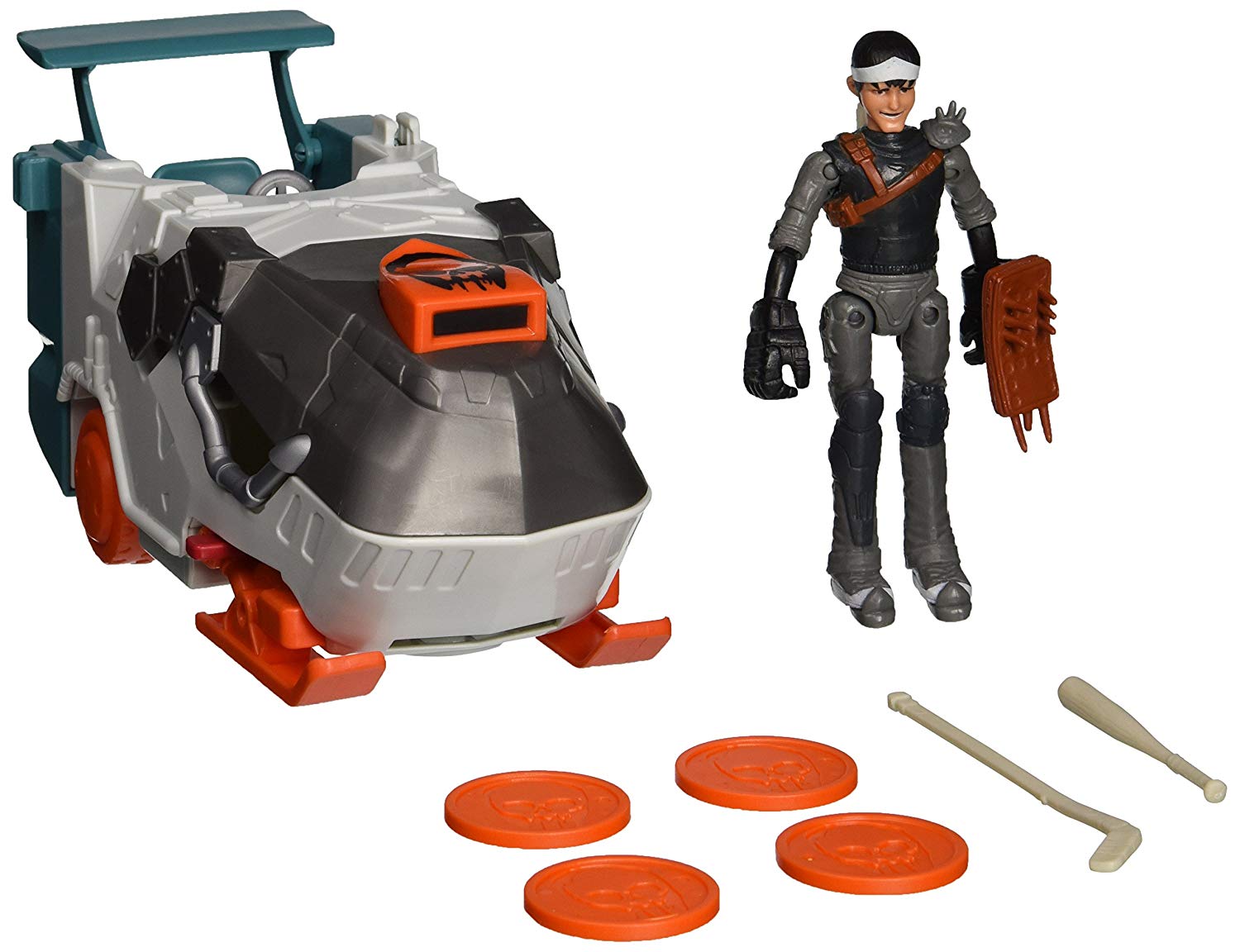 This year, Unmasked Casey Jones came riding a slamboni, and Space Mickey arrived in a Fugitoid spaceship.
Mutation Segment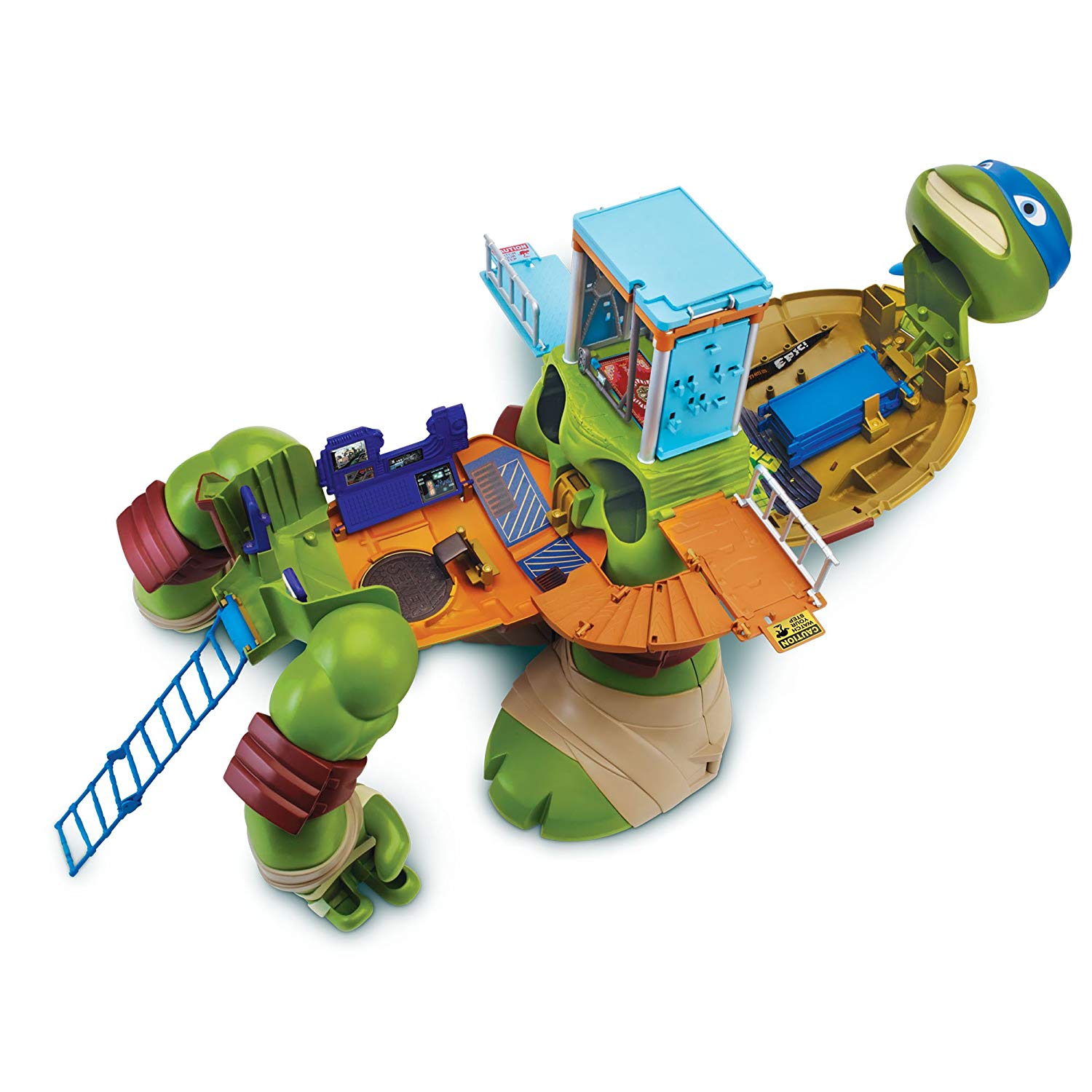 A giant 24" Leonardo Turtle to Playset toy arrived, which is a big Leonardo figure that can be disassembled into a playset for all of your other smaller figures.
2016
Wave 16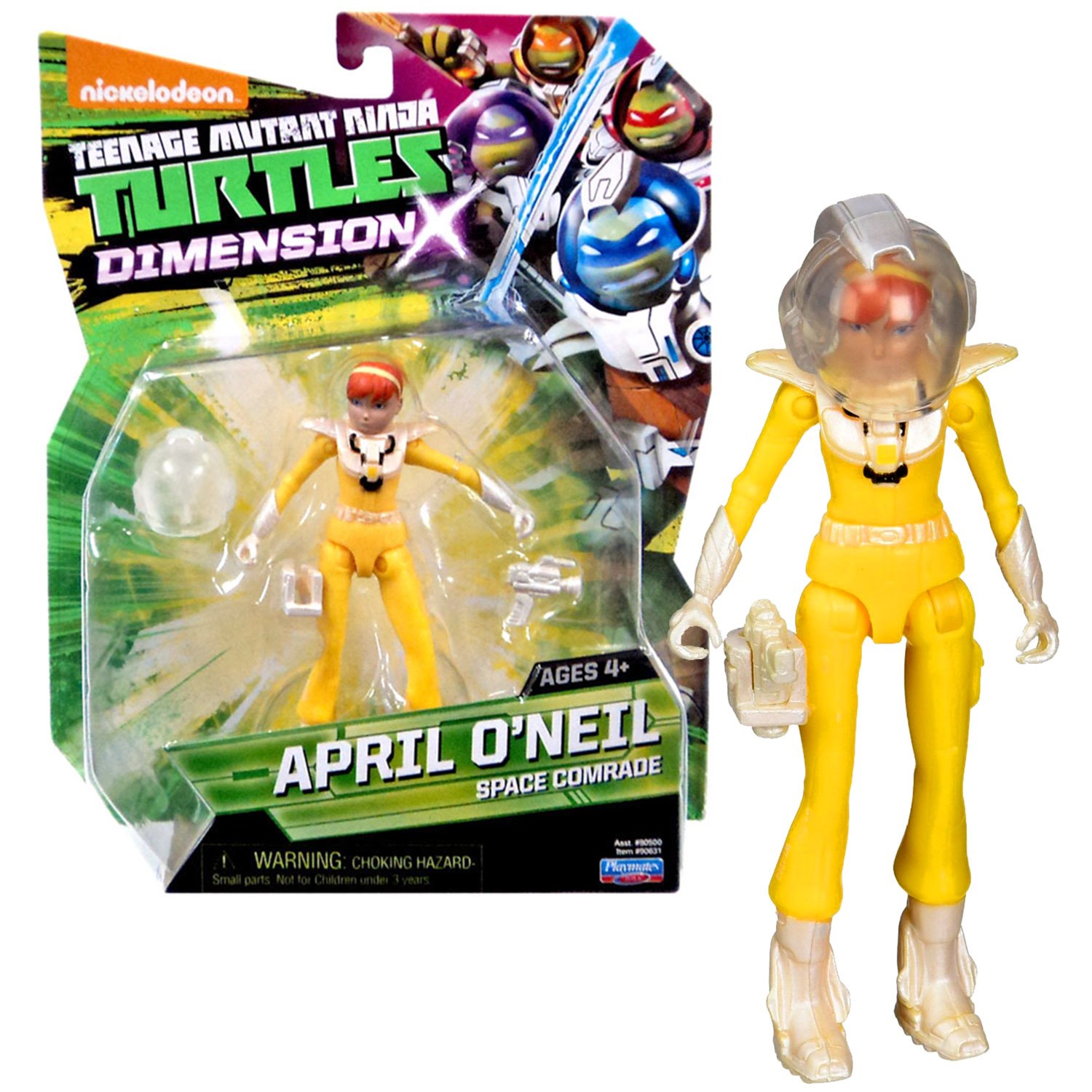 Dimension X April and Casey arrived in 2016, as did the villain Robug. Regarding the turtles, Spittin' Raphael and Spittin' Michelangelo came out, Shadow Ninja Color Change Leo and Mikey, Tongue Poppin' Mikey, and Eye Poppin' Leo all came out.
Wave 17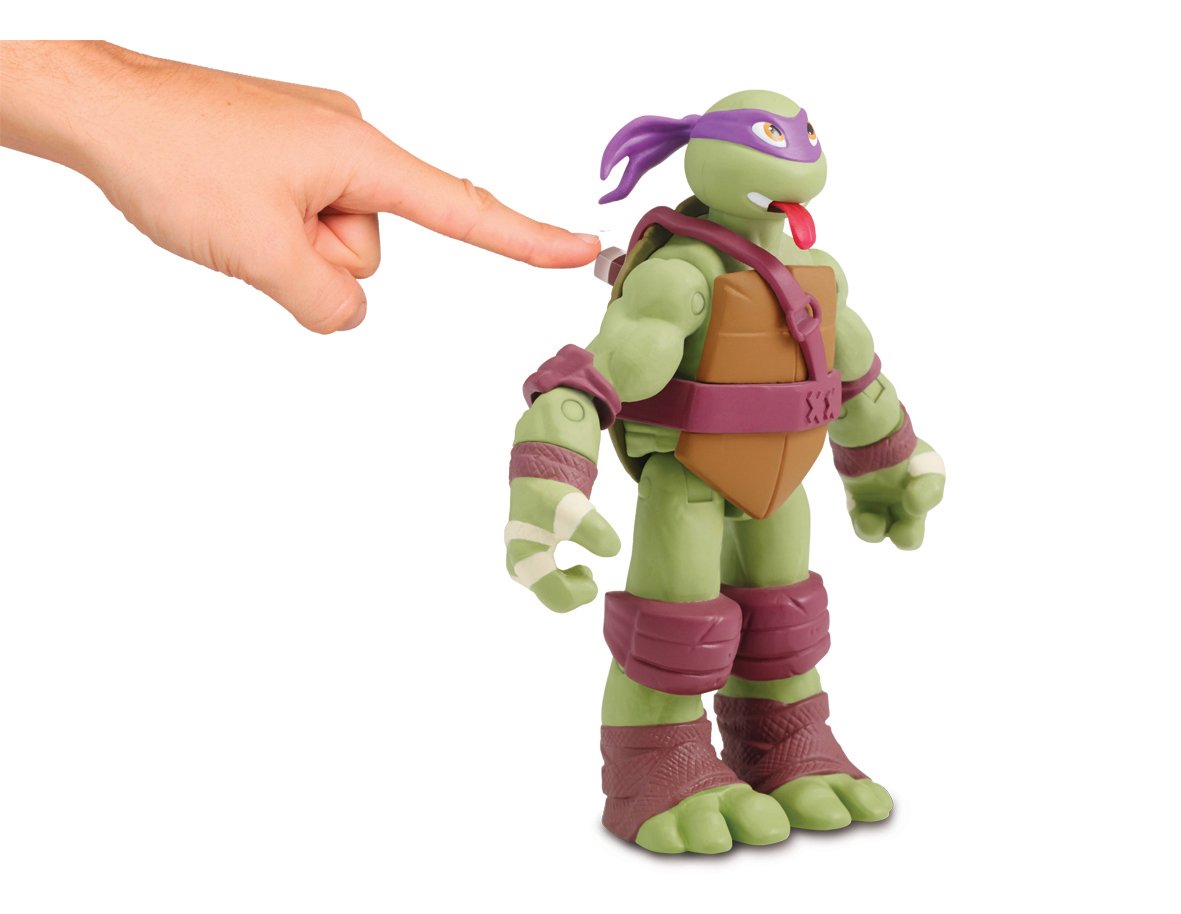 This time around, only two new figures came out, a new edition of Dire Beaver and Tongue Poppin Donnie.
Wave 18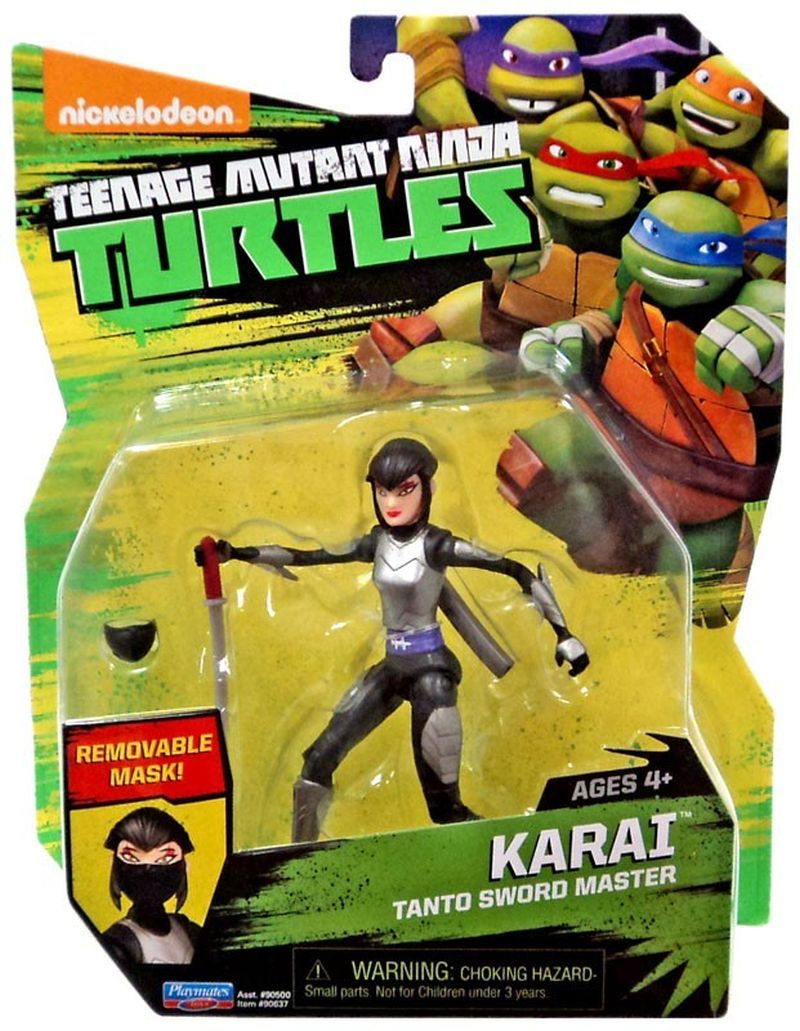 Villain Armaggon came next, as well as Karai, the ally of the turtles.
Wave 19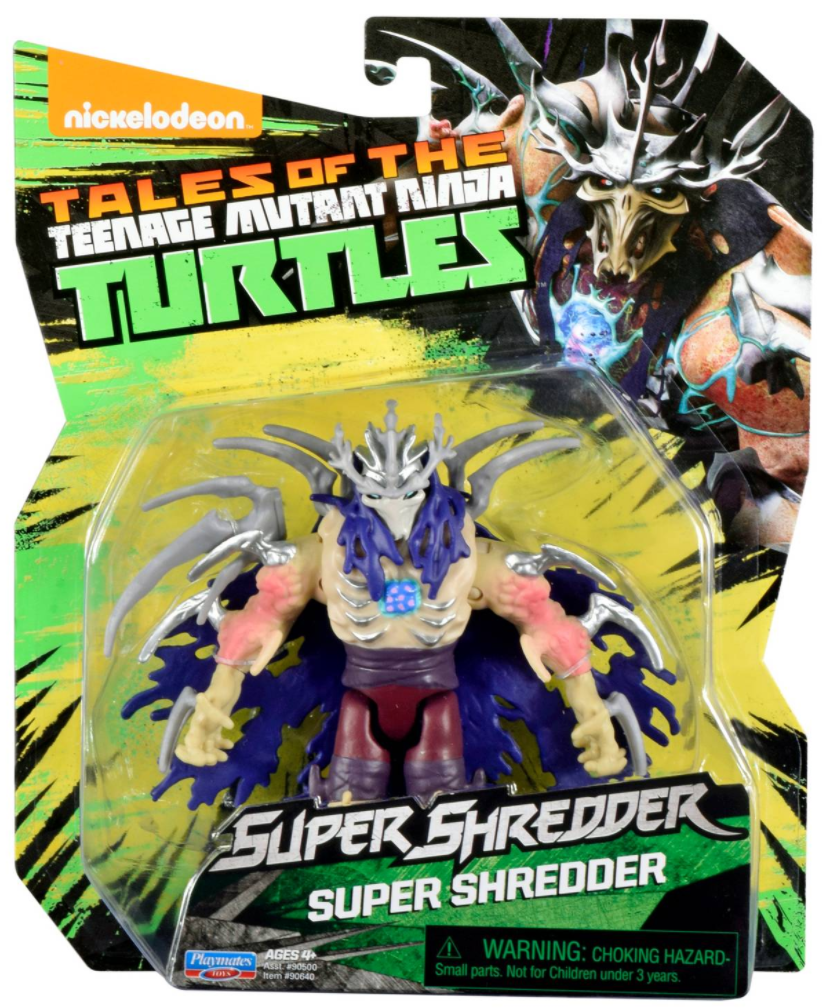 This special range of toys brought us Super Ninja Leo, Donnie, Raph, and Mikey, as well as Super Shredder.
Deluxe Figures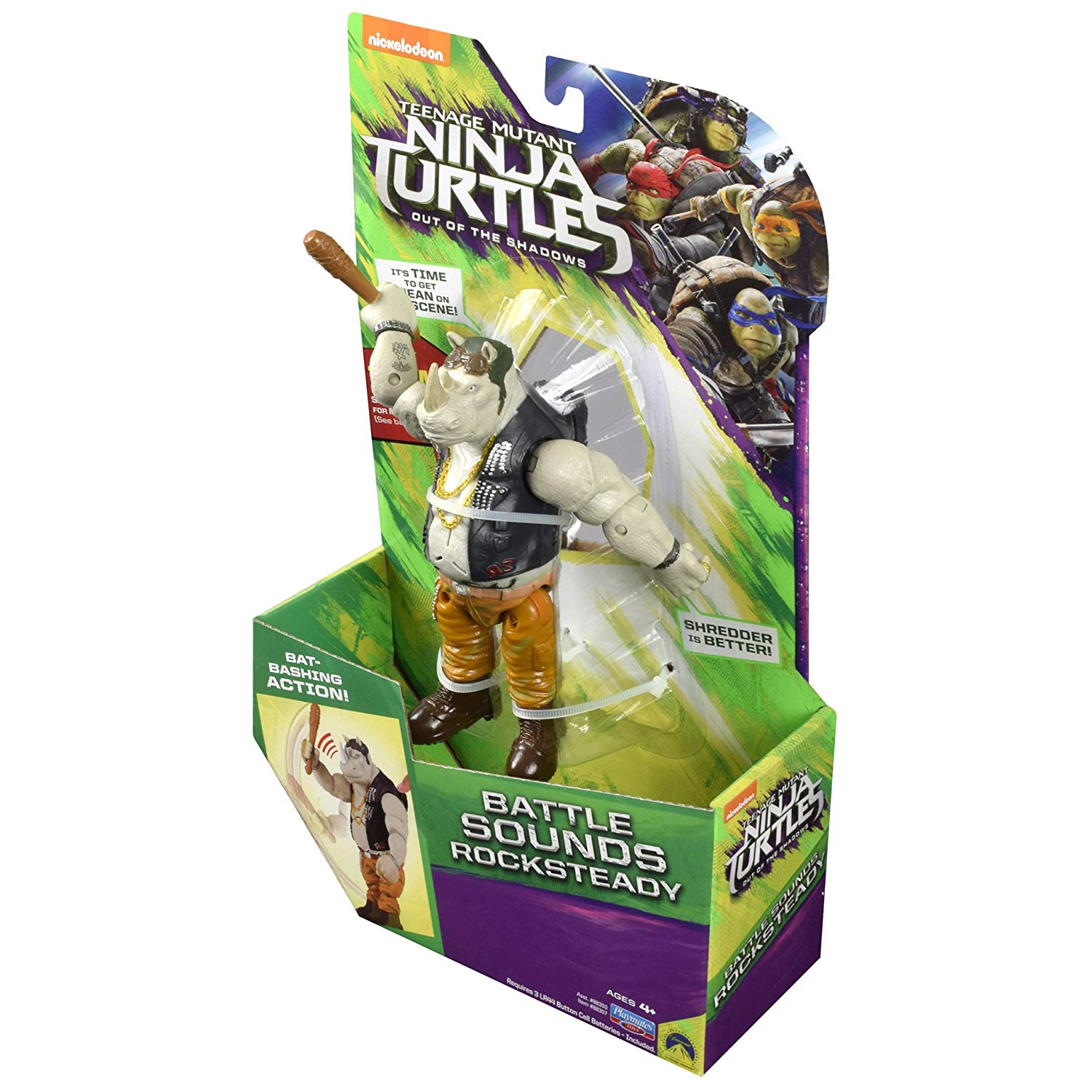 This time, the deluxe versions included Battle Sound turtles, and Battle Sound Bebop and Rocksteady.
11" Figures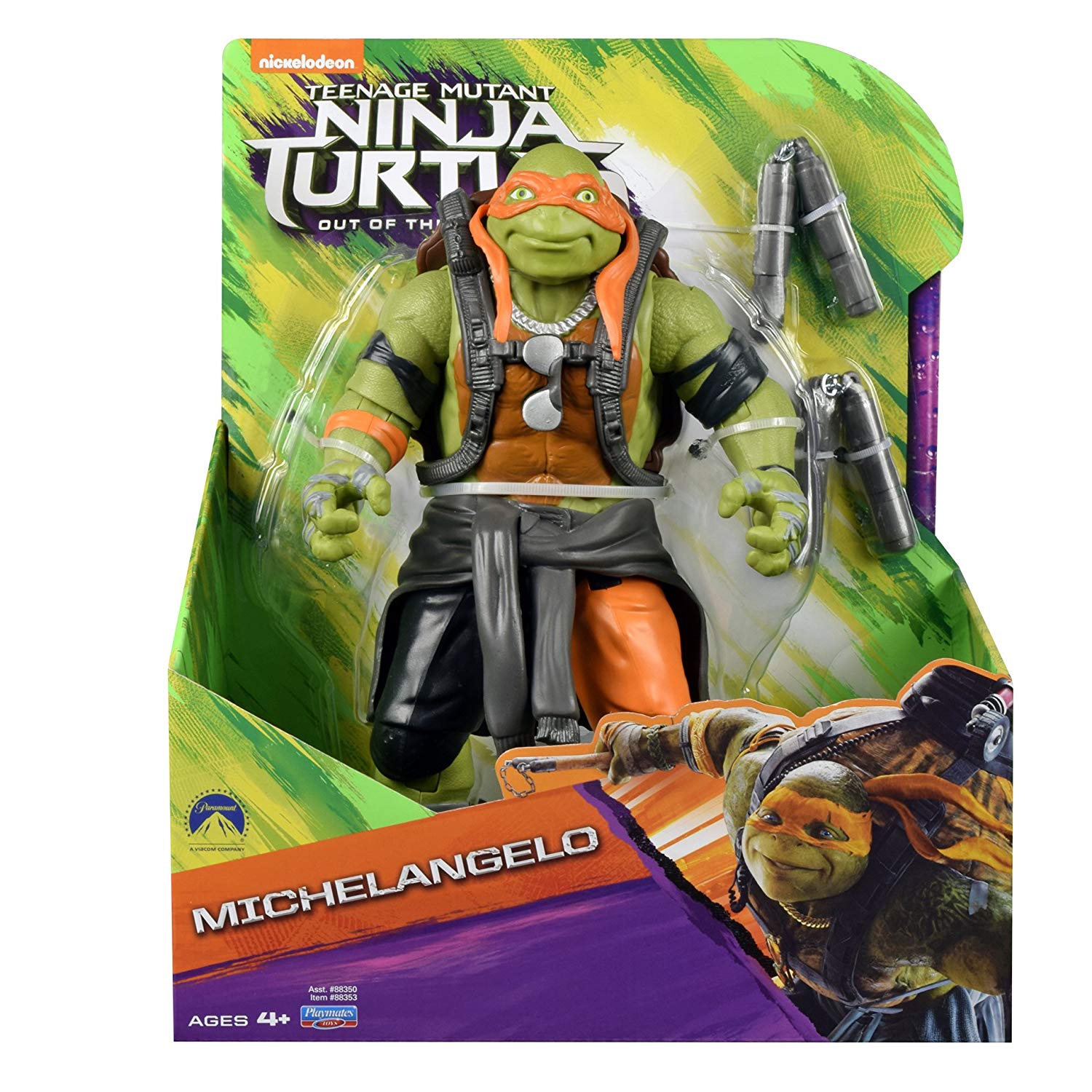 New large toys were also made available, and also of the turtles and their two mutant enemies.
Vehicle Exclusive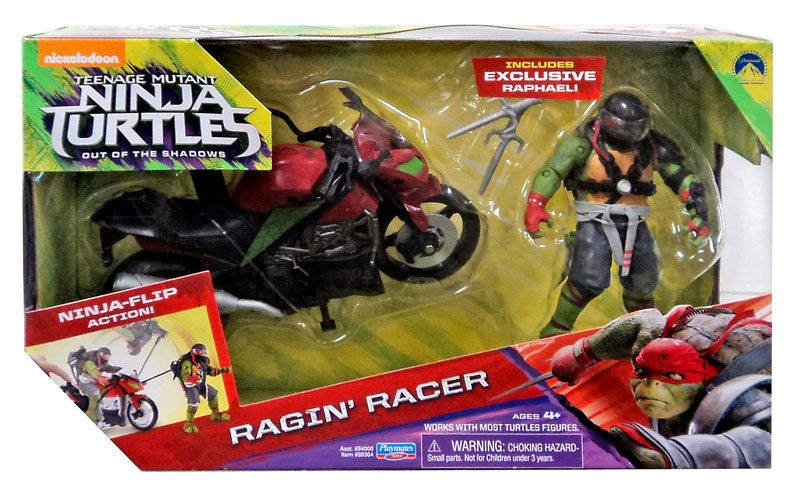 Leo and Raph brought out their bikes this time, but so did Bebop and Rocksteady.
2017
The toys in 2017 were many. They first included one of the most popular ally of the turtles, rabbit samurai Usagi Yojimbo.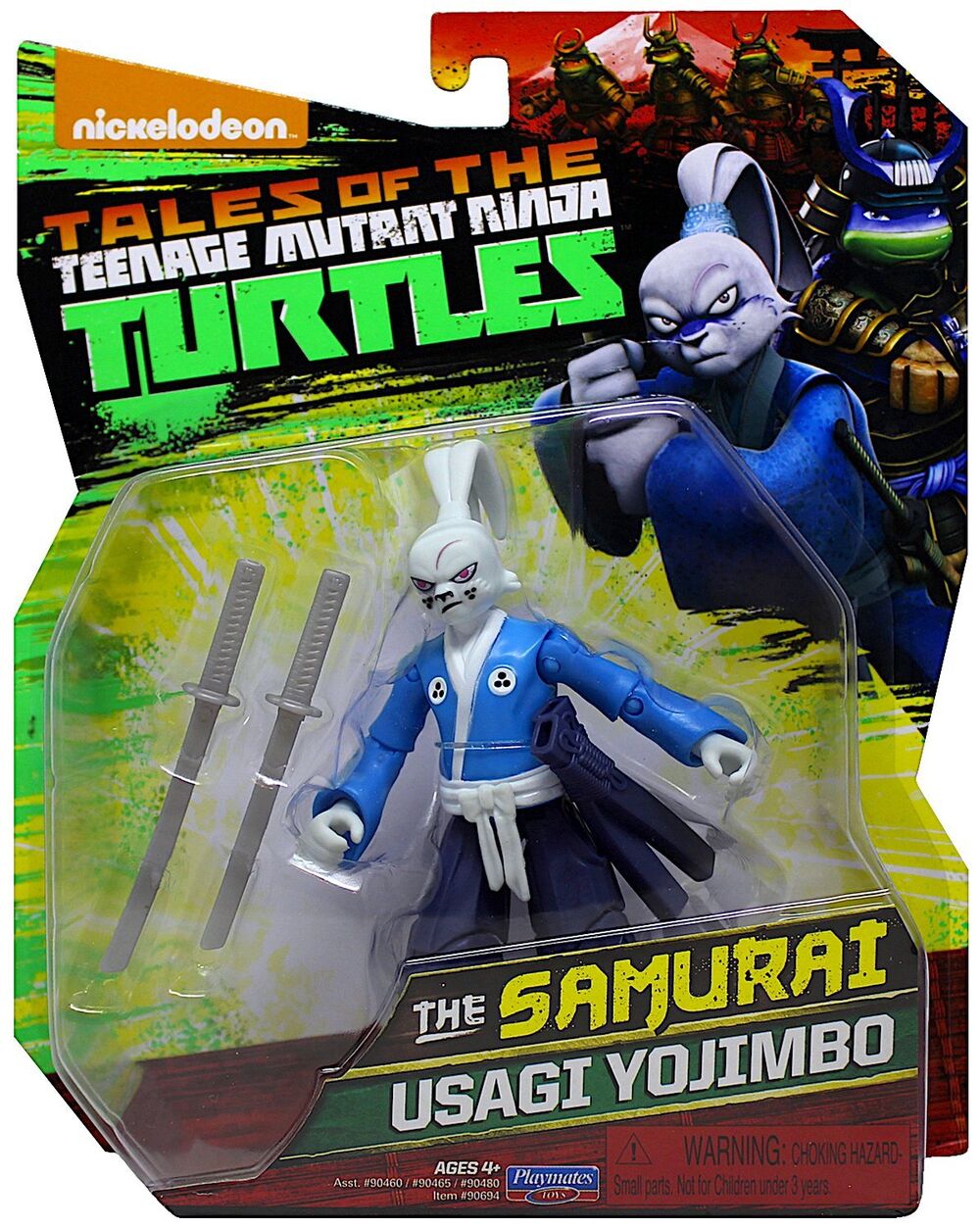 Next came Samurai turtles, and Samurai Usagi, as well as enemies Muckman, Crimson Leader, and Brutal Shredder.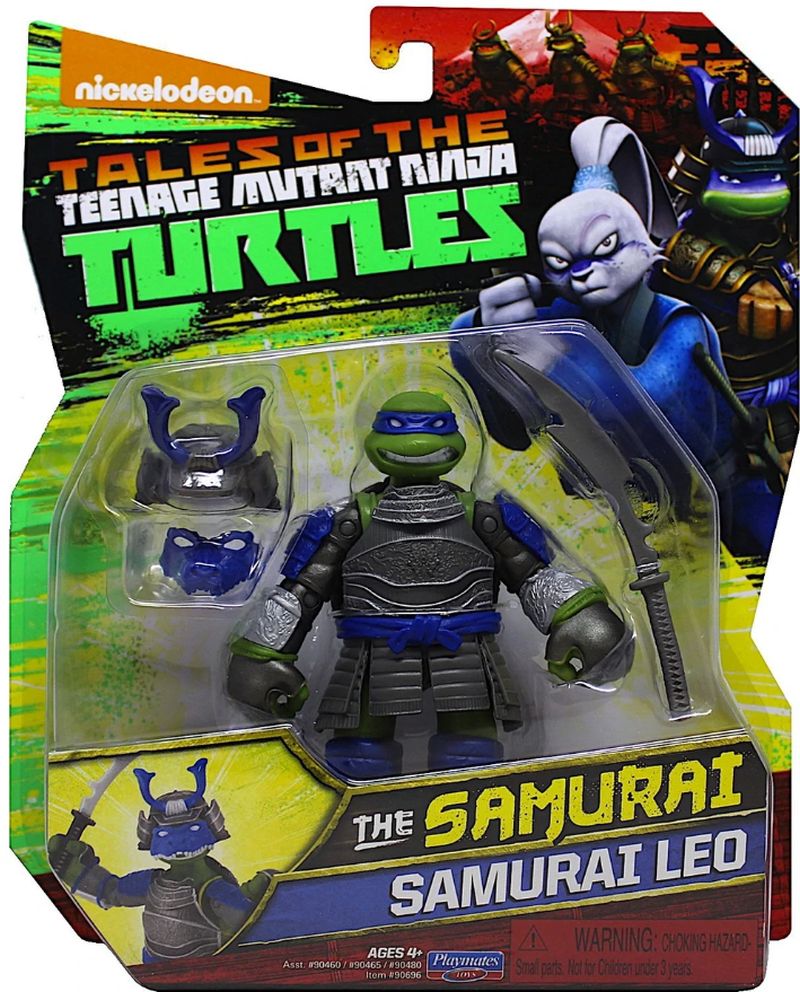 Next turtle toys included Mighty Leo, Hothead Raph, Tech Donnie, and Jokester Mikey. The accompanying villains were Savage Rahzr Fierce Fishface, Toxic Mutagen Man, Lethal Robotic Foot Soldier, and Mastermind Baxter. The allies included Sensei Splinter, Ragin' Leatherhead, Vigilante Casey Jones, and Mystic April O'Neil.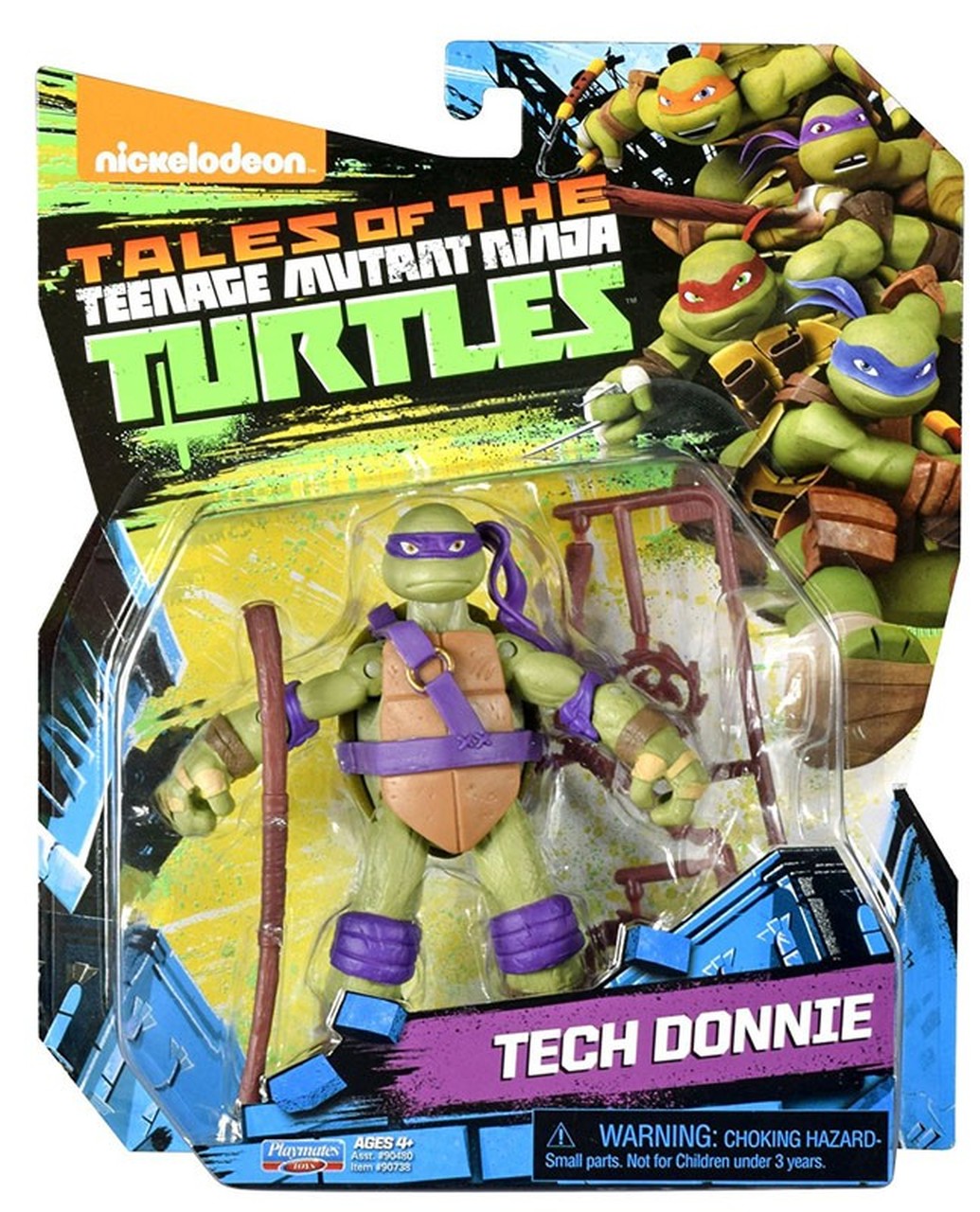 A special version of characters came with the 80s Leonardo, 80s Rocksteady, and 80s Bebop.
Another funky and special version were Frankendon, Werewolf Mikey, Vampire Raph, and Mutant Mummy Leo. Alongside these came Monster Hunter Raph and Monster Hunter Leo.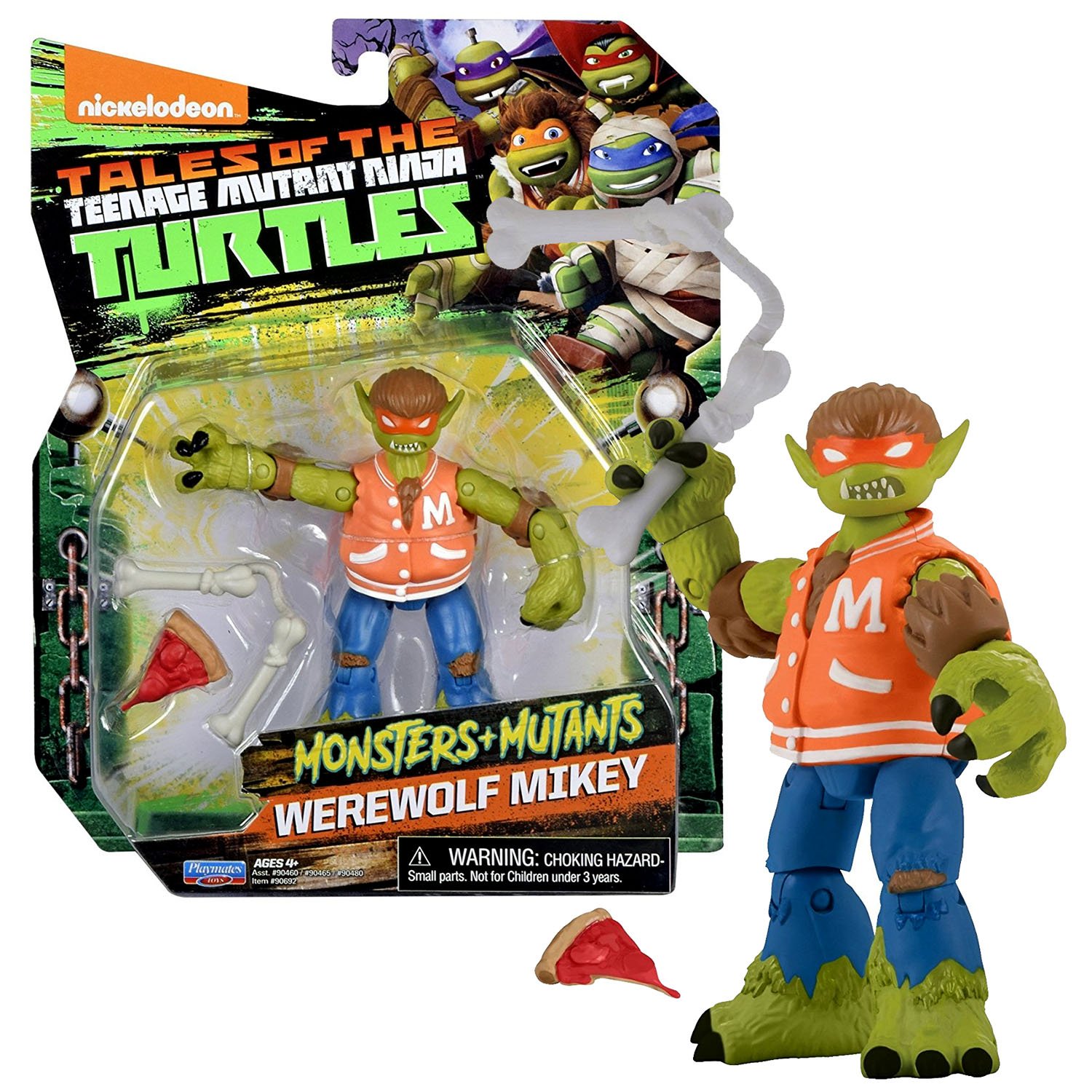 New editions of baby turtles in training also appeared, called Rookies in training Leo and Donnie, and Rookies in Training Mikey and Raph.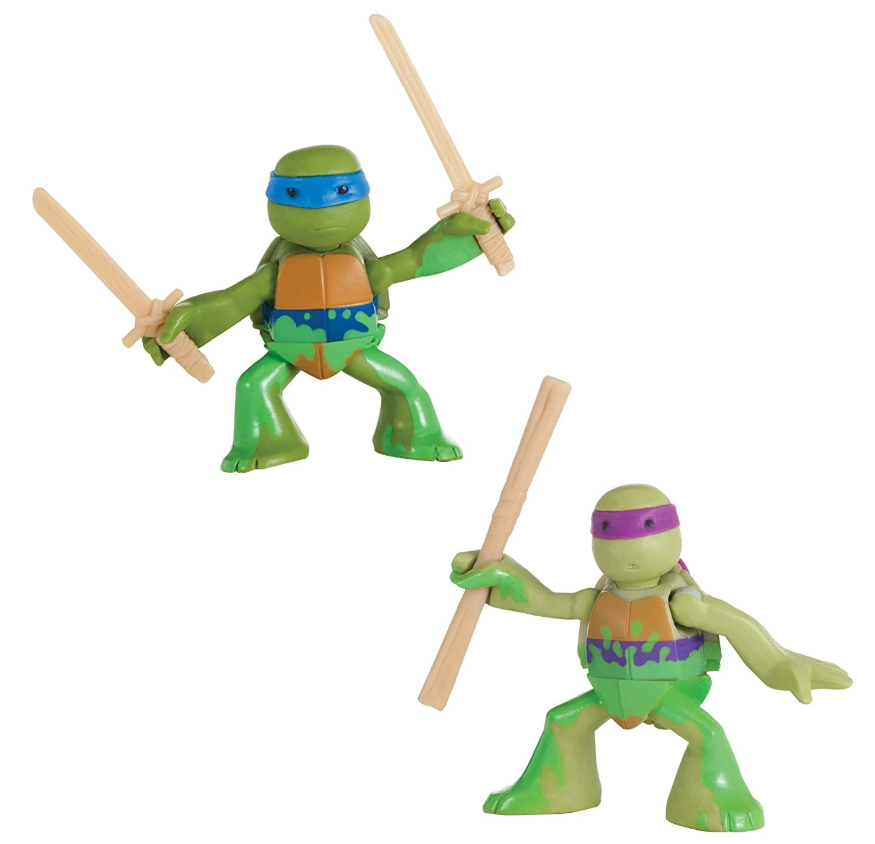 2018
Last year, the aforementioned Rise of the Teenage Mutant Ninja Turtles premiered and it brought fresh toys.
Basic Figures included: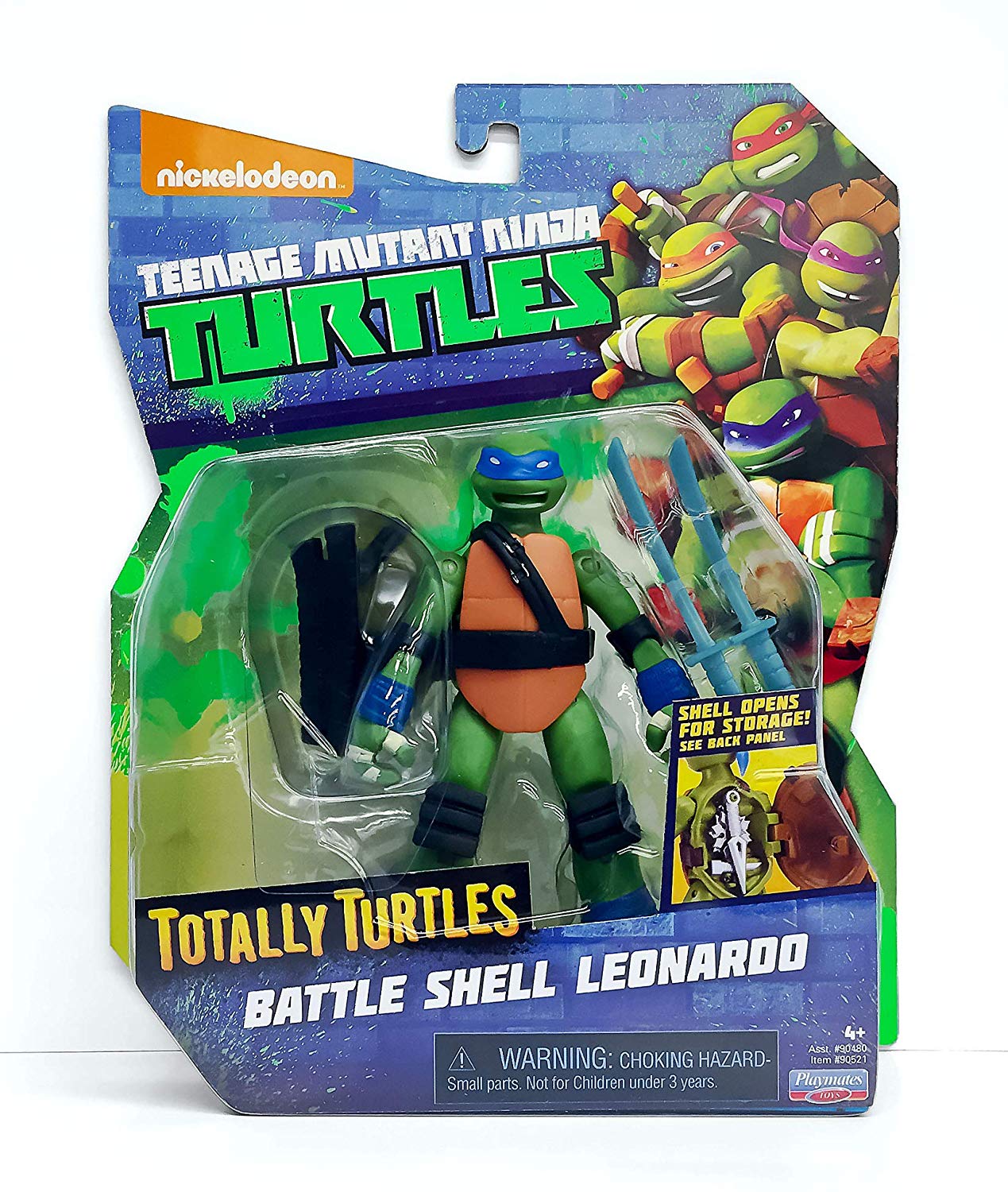 Battle Shell turtles, Albearto, April O'Neil. Baron Draxum, Foot Lieutenant, Meat Sweats, Origami Ninja, and Splinter.
2019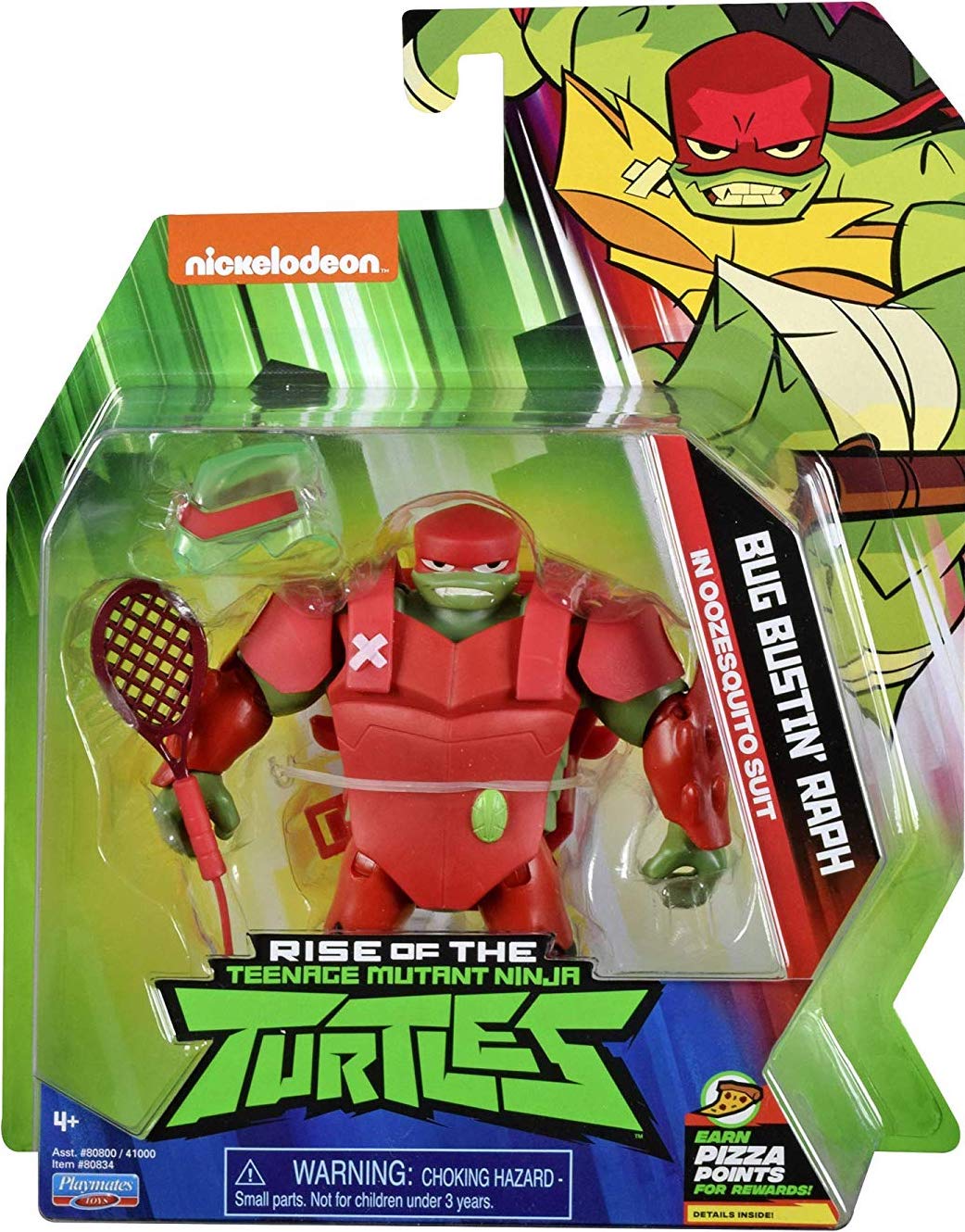 This year, the figures the company released included Big Mama, Bug Bustin' turtles, Bullhop, Hypno-Potamus, Repo Mantis, Turtle Tots, Wrestling Leonardo and Michelangelo, and Oozesquito.